We are delighted to add a new selection of Christmas Mass cards to our collection this year.
Let someone know that they are being prayed for at Knock Shrine. Every person enrolled in the Knock Shrine Friends Association shares in two daily Masses at Knock Shrine for one year.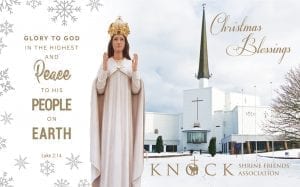 'Christmas Blessings'
This beautiful card features the new pilgrim statue of Our Lady of Knock
and the iconic Knock Basilica. The pilgrim statue was blessed by Pope Francis in 2018 and has commissioned by Knock Shrine for the 140th anniversary of the Apparition.
Now available here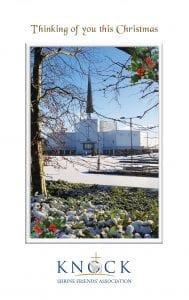 'Thinking of You this Christmas'
This beautiful card features Knock Basilica in a snowy, festive setting.
This iconic church was constructed in 1976 and elevated to the status of Basilica by Pope John Paul II during his visit in 1979.
Now available here
For our full selection of Mass enrolment cards, visit our website  here.