We are delighted to launch this latest addition to our collection of Mass enrolment cards. This beautiful, contemporary Mass enrolment card showcases one of the most stunning stained glass windows at Knock Parish Church. It is perfect for any occasion, to remember a loved one, family member or friend in two daily Masses at Knock Shrine for one full year.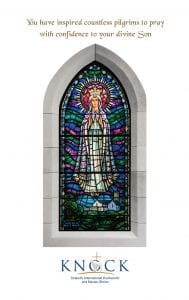 It features the stunning 'Our Lady of Knock' stained glass window by the renowned Harry Clarke studios, installed at Knock Parish Church, along with an excerpt from the Prayer to Our Lady of Knock.
See this stunning card in  more detail here.
Now available at our Mass Enrolment office, which is open daily from 9am to 6pm. For phone requests, please call the office at 094 93 75 035.
Our online Mass enrolment service is available 24 hours a day and Mass enrolments can be posted worldwide. See www.knockshrine.ie/mass-enrolment for more details.