'This Christmas, your prayers are joined here with mine,
As a candle is lighting for you at Knock Shrine.'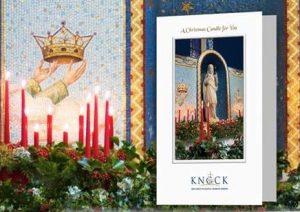 Share the true meaning of Christmas. Send an alternative Christmas gift this year. Light a candle at Knock Shrine for the 12 days of Christmas.
Let someone special know that they are being prayed for at Knock Shrine this Christmas. A candle will light at Knock Shrine for their intentions from Christmas Day until the Feast of the Epiphany. We will light the candle each day of the Christmas season on your behalf.
Now available here