'Stabat Mater Dolorosa: a day of reflection on the mother of Jesus at the foot of the Cross'

Saturday 17th February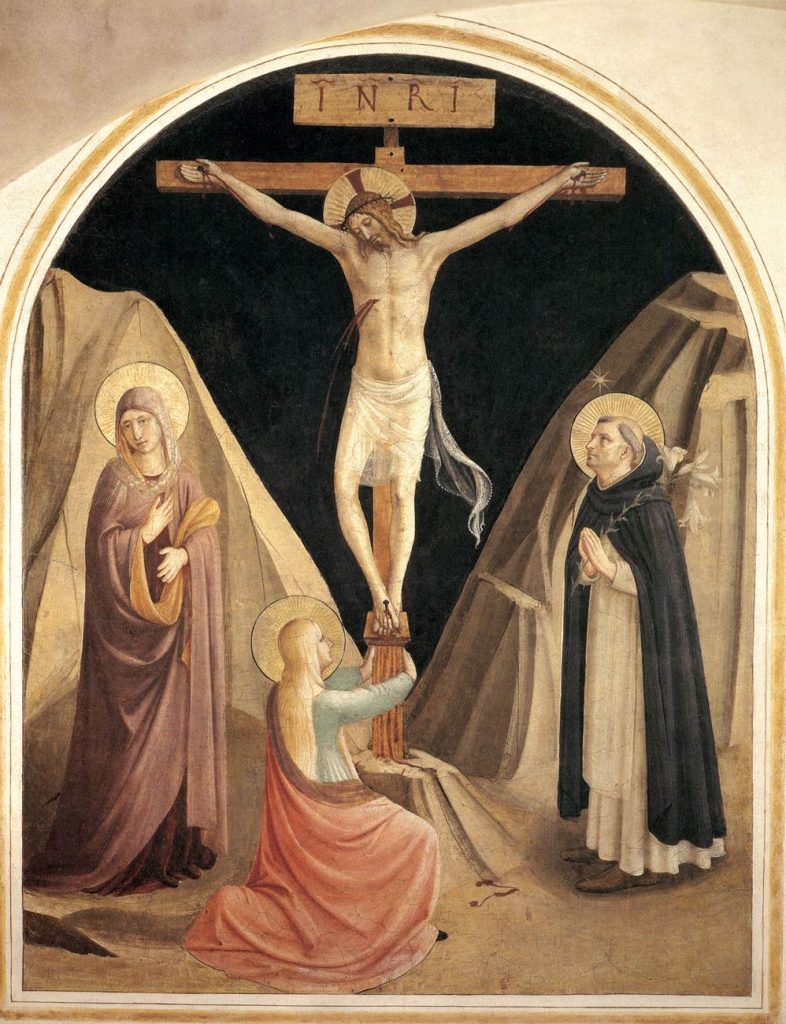 On Saturday 17th February, Fr Michael Dunleavey, OP will facilitate a talk entitled 'Stabat Mater Dolorosa: A Day of Reflection on the Mother of Jesus at the foot of the Cross'. This event will coincide with the Feast Day of Fra Angelico, which takes place the following day. The presentation will offer a unique interpretation of one of the most poignant moments in the life of the Blessed Virgin Mary using the art of Fra Angelico and music from Pergolesi's 'Stabat Mater Dolorosa' (At the Cross Her Station Keeping).
The mater dolorosa was portrayed by Fra Angelico in many of his pained narratives of the crucifixion. Pergolesi's Stabat Mater Dolorosa describes the Blessed Mother's unwavering strength as she stands at the foot of the Cross. Stabat Mater Dolorosa is considered one of the seven greatest Latin hymns of all time. It is based upon the prophecy of Simeon that a sword was to pierce the heart of Our Lord's mother, Mary (Lk2:35). The Dolorosa hymn meditates on the suffering of Mary during the Passion of her Son.
The sufferings of the Mother of God are incomprehensible, inconceivable to any other human being. Only a mother who has lost her only son can understand, but then even in only a small way, the trials and tribulations, sufferings and woe which filled the life of Our Blessed Mother as she accompanied Our Saviour throughout His earthly life.
It continues to be sung at the Stations of the Cross during Lenten ceremonies as we contemplate the suffering of Our Mother Mary as she kept constant vigil over her dying Son, Our Lord and Saviour.
Facilitator: Fr Michael Dunleavey, OP
Location: Prayer Guidance Centre
Time: 11am-3pm
Cost: €30 includes lunch
This is the first event in the new faith renewal spring/summer programme. Find out more about upcoming Faith Renewal Events
[one_half]
Prayer:
At the cross her station keeping, 
Stood the mournful Mother weeping,
Close to Jesus to the last.
Through her heart, His sorrow sharing, 
All His bitter anguish bearing, 
Now at length the sword had pass'd.
Oh, how sad and sore distress'd 
Was that Mother highly blest 
Of the sole-begotten One!
Christ above in torment hangs; 
She beneath beholds the pangs 
Of her dying glorious Son.
Is there one who would not weep, 
Whelm'd in miseries so deep
Christ's dear Mother to behold?
Can the human heart refrain 
From partaking in her pain, 
In that Mother's pain untold?
Bruis'd, derided, curs'd, defil'd, 
She beheld her tender child
All with bloody scourges rent.
For the sins of His own nation, 
Saw Him hang in desolation, 
Till His spirit forth He sent.
O thou Mother! fount of love! 
Touch my spirit from above; 
Make my heart with thine accord.
Make me feel as thou hast felt; 
Make my soul to glow and melt
With the love of Christ our Lord.
Holy Mother! pierce me through; 
In my heart each wound renew
Of my Saviour crucified.
Let me share with thee His pain, 
Who for all my sins was slain, 
Who for me in torments died.
Let me mingle tears with thee, 
Mourning Him who mourn'd for me, 
All the days that I may live.
By the cross with thee to stay, 
There with thee to weep and pray, 
Is all I ask of thee to give.
Virgin of all virgins best, 
Listen to my fond request
Let me share thy grief divine.
Let me, to my latest breath, 
In my body bear the death
Of that dying Son of thine.
Wounded with His every wound, 
Steep my soul till it hath swoon'd 
In His very blood away.
Be to me, O Virgin, nigh, 
Lest in flames I burn and die, 
In His awful Judgment day.
Christ, when Thou shalt call me hence, 
Be Thy Mother my defence, 
Be Thy cross my victory.
While my body here decays, 
May my soul Thy goodness praise, 
Safe in Paradise with Thee.
[/one_half]
[one_half]
[/one_half]