The perfect gift for someone special, a little reminder of this special place or simply a centrepiece for a prayer space in your home.
Knock Book Shop has a lovely range of gifts available in store and online that commemorate the Apparition at Knock in 1879.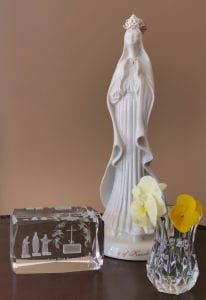 Knock Apparition Crystal Glass Block
This beautiful transparent rectangular 3D laser engraved crystal block has been specially commissioned by Knock Shrine . It features the Knock Apparition of 1879. The Apparition scene appears to float  in a delicate white  three dimensional form in the centre of the block. The block is also ideal as a paperweight for a work or home office. Dimensions: 10cm (h) x 6.5cm(W)
Our Lady of Knock by Belleek Parian China 
This expertly crafted Belleek Lady of Knock Statue is beautifully designed to create a serene figurine of the finest cream porcelain. With 24 carat gold accents this is a truly special piece of Belleek Pottery, to be treasured forever. Measures 28cm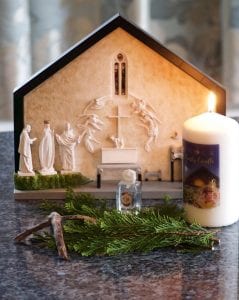 This beautiful Knock Apparition Gable plaque has been specially commissioned by Knock Shrine. The plaque is a representation of the Apparition Chapel at Knock Shrine,  the site of the 1879 Apparition which features statuary by renowned Italian sculptor Lorenzo Ferri. The figures of Our Lady, St. Joseph and St. John the Evangelist  are represented along with the Lamb on the altar. Can be displayed standing or hanging.
It's  a lovely  Irish tradition to light a candle at Christmas time to guide Mary and Joseph on their journey to Bethlehem. Our Knock Family Candle is an ideal Christmas gift. Light a candle to give thanks for the gift for family. The Knock Family Candle is a beautiful solid wax candle, featuring the Knock Apparition Chapel, with the opening lines of 'Silent Night' on the reverse. Available in Natural Wax and LED.
Visit our online shop for more details or call to Knock book  shop which is open daily from 9am to 6pm. The book shop is conveniently located beside Knock Basilica.