The 49th All Night Vigil takes place on Saturday , December 7th from 10pm. The Programme for the evening is as follows: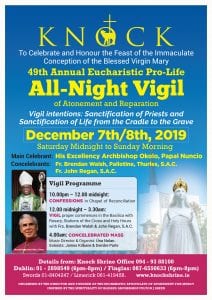 10.00pm: Confessions in the Chapel of Reconciliation
12.00 Midnight – 3.30am:  Vigil proper commences in Knock Basilica with Rosary, Holy Hours, Stations of the Cross with Pallottine Fathers, Fr. Brendan Walsh SAC and Fr.John Regan SAC.
4.00am: Concelebrated Mass with His Excellency Archbishop Jude Thaddeus Okolo.
Director of Music and Soloist: Una Nolan
Soloist: James Kilbane