Would you consider life as a priest in the Archdiocese of Tuam?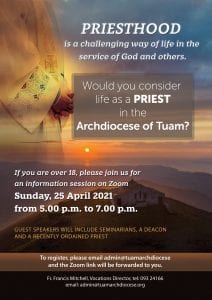 If you are over 18 years of age, join Fr. Francis Mitchell, Vocations Director for the Archdiocese of Tuam for an online information session on Zoom on Sunday , April 25th from  5pm to 7pm. Guest speakers will include a seminarian, a deacon and a recently ordained priest.
To register, email at admin@tuamarchdiocese.org and a zoom link will be sent to you.
For further information, contact Fr. Francis Mitchell, Vocations Director at (093) 24166 or visit www.tuamarchdiocese.org