Knock Museum is delighted to announce, after more than a year long closure due to Covid19, the reopening of the Museum on Monday 31 May 2021. To celebrate the reopening and as a goodwill gesture to all our loyal pilgrims and visitors, entrance fees will be waived for the 2021 season.
Some of the highlights that await you…
There is so much to see at Knock Museum,  so this year why not make a visit to the Museum part of your staycation? Established in 1973 and now set in the beautiful gardens of Knock Shrine, Knock Museum is dedicated to sharing the history, culture, traditions and stories of Knock Shrine and the pilgrims who have come here for over 140 years.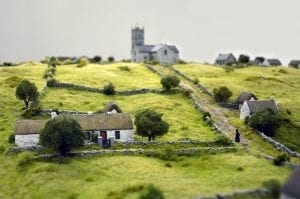 One of our most recent additions to the collection is the large-scale model of Knock village as it was in 1879. The model is filled with wonderful details of the Parish Church, as it was then, in a large field bounded by a stone wall and the thatched houses of the villagers, many of whom witnessed the Apparition.
It offers a fascinating insight into village life in Knock and into the historical and social context of the Knock Apparition.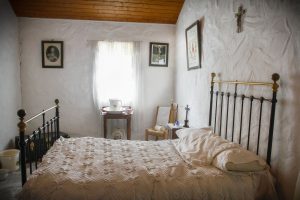 One of the most favoured exhibits in the Museum is the life-size thatched house.
This traditional house is a replica of the Byrne homestead where five of the Witnesses lived.
Knock Museum is an ideal starting point for your visit to Knock Shrine and a delightful experience for visitors of any age. Here you will discover the unique and fascinating story of Knock – covering over  140 years of history – and find out why more than 1 million people make the journey to Knock Shrine each year.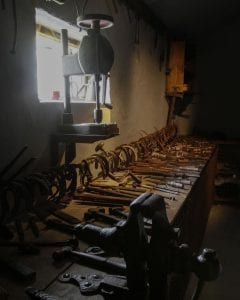 In the blacksmith's forge in the museum, which is a reconstruction of Tom Mullen's Forge, Cloonbulbin, Bekan.
You can hear the sounds of the blacksmith at work and see the varied collections of tools he used and made.  
Knock Museum is dedicated to the memory of all pilgrims who have come to Knock since 1879 and in the museum you can listen to personal stories of faith, pilgrimage and devotion to Our Lady of Knock down through the years. You can keep making history by contributing your own memories and stories of Knock to our 'Memories of Knock' collection which is a wonderful compilation of personal stories of faith and devotion.
Plan Your Visit….
Knock Museum Opening Hours
Open daily 10am-6pm from Monday, May 31st 2021.
Free entry to Knock Museum for the 2021 season
Audio Guides are available to tour the exhibitions.
Find out more about Knock Museum here.
Knock Museum is an accredited member of the Museum Standards Programme for Ireland.