The relic of Blessed Carlos Acutis will visit Knock Shrine on Friday 15th September.
Blessed Carlo was born in London to Italian parents, but grew up in Milan where his family relocated when he was just a child. From a young age, he displayed an extraordinary devotion to his Catholic faith and attended Mass daily, regularly received the sacraments as well as developing a deep love for the Eucharist.
On October 10, 2020, he was beatified by Pope Francis, becoming the first millennial to be declared 'Blessed' by the Catholic Church.
The Church said that his beatification highlighted "the significance of his witness, particularly for the younger generation, demonstrating that holiness is attainable even in our modern world".
Blessed Carlo Acutis would have been 32 years old as of May 3, 2023, had the young man not died of leukemia in 2006, at the age of 15.  Acutis was known for centering his life around the Eucharist and attending Mass and Adoration daily.
The relic has travelled to Ireland from Assisi's Sanctuary of the Renunciation, the Church where Blessed Carlo Acutis' remains are housed and displayed. The church is located at the site where it is said that St. Francis of Assisi cast off his rich clothes and took up the poor habit.
The relic is a first-class relic, meaning it is a piece of the body of Blessed Carlo Acutis. The relic in question is said to be a piece of his pericardium, the fibrous membrane that encloses the heart and blood vessels. The relic will be accompanied by Archbishop Dominico Sorrentino of Assisi and Monsignor Anthony Figueiredo, a Vatican representative.
Programme for the Relic of Blessed Carlo at Knock Shrine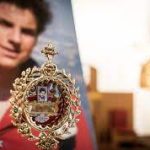 11.30am Arrival of Relic to the Basilica with Archbishop Sorrentino and Monsignor Figueiredo
12noon – Mass celebrated by Archbishop Dominico Sorrentino
2pm Rosary in the Basilica
2.30pm Hymns in the Basilica
3pm Mass celebrated by Archbishop Dominico Sorrentino
4pm Talk by Monsignor Figueiredo with Rosary at 4.45pm
5pm Holy Hour
6pm Farewell with new Blessed Carlo Song and Our Lady of Knock
An exhibition of his life will be on display at St John's Rest & Care Centre. There will also be a launch of a new book by Monsignor Anthony 'Blessed Carlo Acutis: Light the Flame of Faith!'.  The book will consist of the history of our Irish faith, where we are today and how Blessed Carlo can intercede.  The life of Carlo will be included with his "Five Steps to Heaven", his prayer for canonisation and a Hymn to Carlo.
The relic will depart Knock Shrine for St Anne's Church, Sligo where it will be on display on Saturday 16th September, followed by a visit to Newry Cathedral on Sunday 17th September.