Annual Blessing Of Pets
We are delighted to welcome the return of our annual Blessing of Pets ceremony on Saturday, October 8th at 11am. This is always a special day here at Knock Shrine.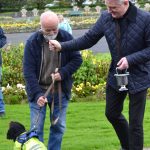 Our pets, however big or small, are 'one of the family' and offer us unconditional love and companionship on a daily basis. This blessing service  is a wonderful opportunity to thank God for the gift of animals and to ask God's blessing on all that he has made.
The Blessing will take place in the Shrine grounds, outside the HUB/ Information Centre. All are welcome to attend.