Catholic Schools Week will be celebrated in schools across the island of Ireland from Sunday 23 January – Sunday 30 January.
The theme for Catholic Schools Week 2022 is 'Catholic Schools: Living Life to the Full'.
During Catholic Schools Week families, parishes and schools are invited to participate in a week of celebration of Catholic schools reflecting on their contribution to the common good of society.
The full suite of #CSW2022 resources for primary and post-primary are now available on www.catholicschools.ie.  Each resource explores the five daily themes of Catholic Schools Week:
Monday – Living Life to the Full with God
Tuesday – Living Life to the Full Together
Wednesday (Grandparents' Day) – Celebrating Being Together Again
Thursday – Living Life in Wonder and Awe
Friday – Living Life and Facing the Future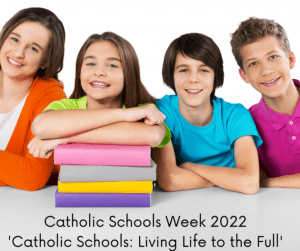 Here at Knock Shrine, our Youth Ministry team are delighted to welcome primary and secondary schools back to Knock Shrine for their annual retreats in 2022. School retreats are available to both primary and secondary schools and offer students a meaningful, spiritually uplifting day to reflect within themselves and experience quality time with their fellow students.
All of our retreats are delivered by a fully qualified and experienced Youth Ministry team in a laid-back, friendly environment. We strive to help students to take that much needed 'time out' to explore their relationship with God and gain a positive and memorable experience.
We tailor each day to suit the needs of the teachers and students. A typical retreat day includes workshops on prayer and self-reflection, team building, meditation and testimonies. It includes a tour of the Shrine grounds and a trip the Museum to help deepen the students' understanding of the uniqueness of Knock. Group activities take place in the safe environment of the Prayer Centre.
These activities offer students the opportunity to bond, to have fun and also again valuable time to reflect and feel the powerful presence of God in their lives.
If you would like to plan a school retreat, please get in touch with a member of our Youth Ministry team who will be happy to assist you.
T: (094) 93 75321    E: youthministry@knockshrine.ie