Christmas is a special time of year at Knock Shrine
Bring a little piece of Knock into your home this Christmas season. Browse our selection of Christmas cards, candles and gifts from the comfort of home. Shipping is available worldwide. Free delivery on orders in Ireland over €50.
Christmas Cards From Knock Shrine
Send greetings from Knock Shrine to friends and family with a Christmas card featuring some beautiful images from our National Marian Shrine. A visit to the outdoor crib at Knock Shrine has long been a tradition for many families and it evokes memories of Christmases past. Our range of Christmas cards also feature the Apparition Chapel and Knock Parish Church.
See our selection here
Christmas Candles
Light a Christmas candle in your home as we welcome the Christ child at this blessed and special time of year. Our Christmas candles are available in natural wax and LED and feature the outdoor crib at Knock Shrine.
Our Knock Family Candle is perfect as a centrepiece as we come together to give thanks for our blessings at Christmas time.
The battery operated LED version offers a child friendly option. This candle can be timed for 6 hours and batteries are included.
See our selection here
Christmas Tree Ornament
What could be more special than a customised Christmas Tree Ornament from Knock Shrine!
This bauble will be sure to spark the joy of Christmas and act a a lovely reminder of this special place. The front of the bauble features the iconic Basilica in the grounds of Knock Shrine, a view that will be known and loved by many. The top is decorated with glitter and topped with a gold ribbon giving a festive and cheerful feeling.
This would make a lovely gift to send to a loved one abroad this Christmas. The bauble comes beautifully packaged in a white gift box.
Find out more here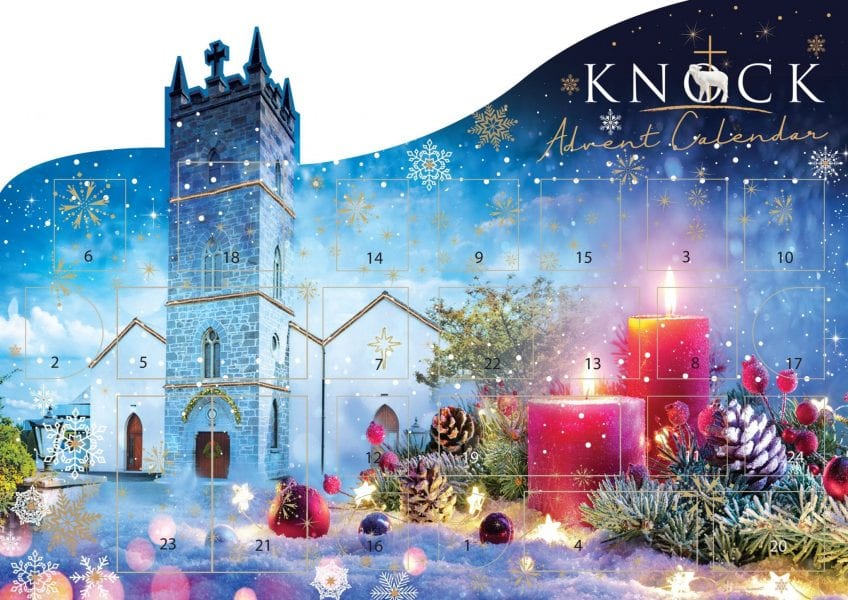 Knock Advent Calendar
Count down the days to Christmas with our Advent calendar. This beautiful Advent Calendar has been commissioned by Knock Shrine as special way to help you prepare for the Season of Christmas. Journey through Advent by opening  a little window each day of December to reveal an inspiring image or a piece of Scripture. The front of the calendar is accentuated with a  festive image of  Knock Parish Church.
Find more details here
Visit Our Online Shop For Seasonal Books & Gifts