Christmas Gifts from The Bookshop at Knock

The Bookshop at Knock has put together a great guide to a range of beautiful and meaningful, religious gifts for Christmas.
Included in the guide are some of the newest and most popular spiritual books, lots of reading for children, DVDs,  diaries and calendars.
Browse the selection below. All of these titles are available to purchase online from the Bookshop.
Alternatively see our beautiful range of Christmas gifts for Children here.
---
[one_half]
Let the Word of Christ Dwell in You 
Martin Hogan      
€14.95
Weekday Reflections for Liturgical Year 2017/2018. These reflections offer rich nourishment from the table of the Word. Those who lead the celebration will find themselves inspired to explore the Word more personally. With this book, celebrants should find themselves encouraged to offer their own brief few words each day.
[/one_half]
[one_half]
In Sinu Jesu
A Benedictine Monk          
€20.65
In 2007, Our Lord and Our Lady began to speak to the heart of a monk in the silence of adoration. He was prompted to write down what he received, and thus was born In Sinu Jesu, whose pages shine with an intense luminosity and heart-warming fervor that speak directly to the inner and outer needs of our time with a unique power to console and challenge.
[/one_half]
---
[one_half]
Prayer Seeds
Joyce Rupp         
€15.90
In Prayer Seeds, the bestselling author and retreat leader offers almost a hundred new selections on a variety of themes such as the feasts and seasons of the liturgical year, compassion, ministry, difficult times, and important events—all suitable for personal or group prayer.
[/one_half]
[one_half]
The Power of Silence
Robert Cardinal Sarah          
€20.65
In a time when technology penetrates our lives in so many ways and materialism exerts such a powerful influence over us, Cardinal Robert Sarah presents a bold book about the strength of silence. The modern world generates so much noise, he says, that seeking moments of silence has become both harder and more necessary than ever before.Silence is the indispensable doorway to the divine, explains the cardinal in this profound conversation with Nicolas Diat.
[/one_half]
---
[one_half]
Home for Christmas
Alice Taylor       
€19.99
Join Alice Taylor this Christmas as she welcomes us into her home and shows us the traditions of her family's Christmas. Alice looks back over her past Christmases and prepares for this Christmas. With all the warmth of a winter fire, Alice takes us through the exciting preparation for Christmas from getting the perfect tree to baking those very crucial puddings and pies. Alice also give us a intimate insight into her Christmas Eve and Christmas day rituals and talks us through her favourite Christmas recipes.
[/one_half]
[one_half]
The Art of Christmas
Sr. Wendy Beckett          
€12.20
In her reflections on this beautiful selection of masterpieces from a range of artists, Sr Wendy Beckett guides us through the feasts and themes of Advent and Christmas. By exploring the insights of these great works of art, Sr Wendy leads us to a deeper appreciation of this joyful yet challenging season, and stimulates us to consider its meaning in our lives.
[/one_half]
---
[one_half]
Finding God in the Mess: Meditations for Mindful Living
Brendan McManus SJ & Jim Deeds
€9.95
Modern lives can be very busy, saturated by technology and media, there isn't always time for happiness. It is the time out and the ability to look back and understand life events that brings about deeper, more satisfying living. Difficult situations of conflict, stress and worry arise, as do pleasant  situations,  but  there  are  ways  through the challenges.
[/one_half]
[one_half]
The Creed
Scott Hahn         
€15.99
Why were the early Christians willing to die to protect a single iota of the creed? Why have the Judeans, Romans, and Persians—among others—seen the Christian creed as a threat to the established social order? In The Creed: Professing the Faith Through the Ages, bestselling author Dr. Scott Hahn recovers and conveys the creed's revolutionary character.
[/one_half]
---
[one_half]
The Divine Dance
Richard Rohr     
€12.25
In The Divine Dance, Fr. Richard Rohr (with Mike Morrell) points readers to an unlikely opening beyond this divinity impasse: the at-times forgotten, ancient mystery of the Trinity—God as utterly one, yet three.
Drawing from Scripture, theology, and the deepest insights of mystics, philosophers, and sages throughout history, Fr. Rohr presents a compelling alternative to aloof and fairytale versions of God.
[/one_half]
[one_half]
The Gospel Truth – Fourteen Gospel
Reflections for Advent and Christmas
Monsignor Thomas Waldron  
€12.00
[/one_half]
---
[one_half]
The Christmas Collection CD
James Kilbane   
€9.99
[/one_half]
[one_half]
Bethlehem Sky CD
Liam Lawton     
€14.99
[/one_half]
---
[one_half]
O Holy Night CD
Daniel O'Donnell 
€12.95
[/one_half]
[one_half]
O Holy Night CD
Mark Forrest
€16.95
[/one_half]
---
Calendars, Diaries & Gifts for Children
[one_half]
Bible Diary 2018             
€13.95
The Bible Diary can be your most treasured companion as you go through next year. Each day features the Scripture Readings and an inspirational reflection that can set the tone for your own personal conversations with God. With space to record appointments and notes, this diary will help bring the Gospel to the heart of your life.
[/one_half]
[one_half]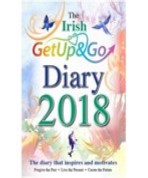 The Irish Get Up and Go Diary 2018                                                         
€10.00
A Diary with a difference. Bright and colourful. A simple, enjoyable, easy to read, easy to use DIARY suitable for all ages.  Over 800 Inspiring, motivating, empowering messages to inspire you to Get Up And Go every day for a whole year.  A wonderful gift, to give or to receive.
[/one_half]
[one_half]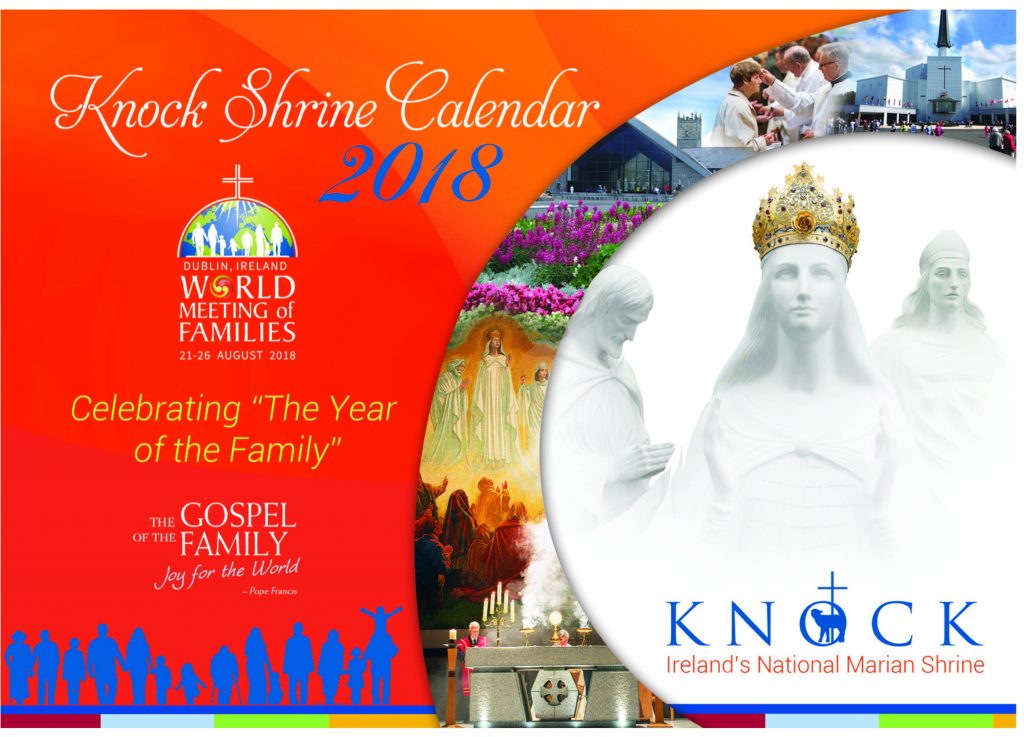 Knock Shrine Calendar 2018
€6.00
This most attractive Appointment-type calendar lists all feast days, major Knock pilgrimages dates  and Knock Shrine Information.
It is an ideal gift for friends and family. It has magnificent large full colour photographs.  It is an ideal gift for friends and family.
[/one_half]
[one_half]
The Christmas Story
Sophie Piper & Annabel Spenceley
€4.90
A traditional and reverent retelling of this important story, evoking the spirit of heavenly love come down to earth at Christmas.
Find it in the Bookshop
[/one_half]
[one_half]
Baby Jesus is Born – Sticker Book                                                                        
€3.70
Delightfully festive sticker book retelling the story of Christmas, perfect for toddlers and early readers. Story begins with the Angel appearing to Mary and carries through to the Wise Men presenting gifts. Children get to search for the right stickers and place them on each page to help illustrate the story, and when finished, they have a bright and quirky story book to read again and again. With twelve story pages and approximately 60 stickers to source and place. Find it in the Bookshop
[/one_half]
[one_half]
Getting Ready for Christmas
€3.10
Getting Ready For Christmas is the story of Jesus' birth told through the eyes of the animals there. This book is a great gift for a child to look and listen to as the beautiful illustrations help make the story easy to understand. Suitable for ages 4 and under.
[/one_half]
---
[one_half]
Baby Jesus         
€1.85
Baby Jesus is one of a set of titles in the Candle Little Lambs series. These books are designed for children 2 and over, and the small format is great for toddlers. There are plenty of pictures for little ones to look at accompanying the simple retellings. The full series includes: Adam and Eve, Noah and the Ark, Joseph, Moses in the Bulrushes, Ruth and Naomi, Samuel, David and Goliath, Daniel and the Lions, Jonah and the Great Fish, Baby Jesus, Peter the Fisherman, The Good Samaritan, The Prodigal Son, Mary and Martha, The Lost Sheep, Zacchaeus, The First Easter, Paul.
[/one_half]
[one_half]
Christmas Stable 24 Piece Jigsaw      
Pauline Siewert                       
€ 8.95
Discover the story of Christmas piece by piece! This entertaining floor puzzle is ideal for school, home or toddler groups. Creatively illustrated by popular artist Pauline Siewert, this simple but sturdy 24-piece jigsaw puzzle encourages little ones to pay close attention to the nativity story as they piece it together.
[/one_half]
---
[one_half]
The Christmas Story
Bible Mini-Pops             
€7.35
An early learning pop-up book about the Christmas story from the shepherds' point of view.
[/one_half]
[one_half]
The First Christmas          
€6.10
Cut-out shapes create a 3D perspective in this Christmas offering illustrated by Trace Moroney. Warmth and charm in the pictures are combined with little windows to peek through to the scene behind to make this a lovely Christmas gift for a little one!
[/one_half]
---
[one_half]
My Very First Christmas
Juliet David & Helen Prole
€3.70
A first-step Christmas story book from the Candle Bible for Toddlers range to introduce little ones to the story of the Nativity. Read about how Mary and Joseph travelled to Bethlehem, Jesus' birth, and the flight to Egypt.
[/one_half]
[one_half]
Princess Stories
Carolyn Larsen             
€15.30
Princess Stories, appropriate for girls ages 4 to 8, is a collection of first-person narrative stories about 29 women in the Bible—and the 30th story is about the reader, who is God's princess too. 
[/one_half]
---
[one_half]
Beautiful bedtime stories with Jesus
Charlotte Grossetete             
€11.95
Five wonderfully illustrated bedtime stories, ideal for helping children get to know the life of Jesus and for parents to pass on the faith before a good night's rest under the watchful and loving gaze of our Lord and saviour!
[/one_half]
[one_half]
The Beautiful Story of Jesus
Maite Roche       
€4.99
Much-loved illustrator Maïte Roche uses all her skill and experience to tell the good news of the life of Jesus for children. An indispensable book for getting to know Jesus better and for being introduced to the words of the gospels. These colourful books are a delightful companion for young children discovering their loving friends in heaven and the story of their faith. The beautiful illustrations and the simplicity of the language lead children to a closer relationship with God.
[/one_half]
---
Nicholas – The boy who became Santa
DVD  
€14.50
Nicholas was still a young child when he discovered a very special secret that changed his life forever. It was the gift of giving, by which he brought happiness to many people; but in sharing this great gift Nicholas had to face many dangers. Here is the fascinating story of the boy whose love and care for others make him one of the most popular figures of all times.