The drop-in service at Knock Counselling Centre is available throughout the summer months.
This is a free, confiden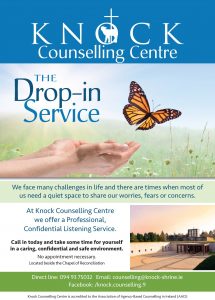 tial service available to anyone visiting Knock Shrine.
Available during the pilgrimage season at the following times:
Thursday: 10am-5pm
Friday: 2pm-5pm
Saturday & Sunday: 11am-5pm
The drop-in listening service offers people an opportunity to discuss difficult or challenging life issues in a caring and confidential environment. People attend single sessions to reflect on and discuss personal issues or concerns.
The drop-in service is available to any person or persons over the age of 18. There is no set fee for a session at the drop-in listening service. No appointment is needed to use the drop-in listening service.
Contact Knock Counselling Centre: (094) 93 75032 or email: counsellingteam@knockshrine.ie
Knock Counselling Centre is a community based counselling service provided by Knock Shrine and part funded by the child and family agency, TUSLA and  is a member of the Association for Agency Based Counselling in Ireland.
Counselling is a talking therapy. Any person can avail of the opportunity to attend to emotional or psychological problems in a supportive and confidential therapeutic environment.

Mission Statement
Our mission is to promote emotional, spiritual and mental well being through the provision of professional counselling services to individuals, couples, families and young people aged 12 to 18 years.