Looking for some good books about Easter? 
Here are some of the top picks from the spiritual and religious Bookshop at Knock Shrine. The Bookshop at Knock Shrine has a wide range of books about the meaning of Easter; how to observe it; prayer and reflection for the Lenten journey; and preparation for Easter.
Latest News
The launch of 'The Lamb Will Conquer' by Fr Nigel Woollen, CC,  will take place in the Bookshop at Knock Shrine on Saturday 22nd April at 2.30pm. The book will be launched by Most Rev. Fintan Monaghan, Bishop of Killaloe.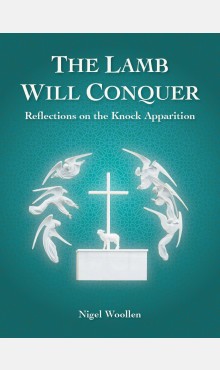 'The Lamb Will Conquer; Reflections on the Knock Apparition' by Fr Nigel Woollen
Veritas Publications
In The Lamb Will Conquer, Father Nigel Woollen offers a thoughtful and inspiring meditation on the 1879 apparition at Knock, with particular emphasis on the tableau of statues, depicting the vision, that are located within the Shrine Chapel. With recourse to apt scripture passages, as well as personal reflections, The Lamb Will Conquer provides fresh, consoling insights into the apparition – a joyful 'revelation of heaven' – and explores its enduring symbolism both for our Christian forbears and for pilgrims today. This book encourages readers to engage deeply with the message of Knock and to see in it a call to journey compassionately and lovingly with our neighbours in Christ.
Find out more or purchase here