Faith Renewal Events
"So do not fear, for I am with you; do not be dismayed, for I am your God. I will strengthen you and help you; I will uphold you with my righteous right hand." Isaiah 41:10
Find out more about the World Meeting of Families 2018 #WMOF2018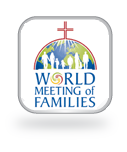 The days are getting longer and there is plenty of optimism in the air  as preparations are underway for the new series of faith renewal events taking place throughout the spring and summer months.
The latest faith renewal events have been developed to offer new and engaging day retreats, workshops, courses and spiritual concerts to the local community and pilgrims visiting the Shrine.
Saturday 8th April 'Celebrating Family; Preparing for World Meeting of Families 2018'
"The welfare of the family is decisive for the future of the world and that of the Church" – Pope Francis.
In August 2018, the World Meeting of Families will take place in Dublin. To find out what this means for you and your family, you are invited to Knock Shrine to a special event which will help all of us to prepare for this wonderful international occasion.
All are invited to join us for a  one-day conference on Saturday 8th April. The conference will begin with a presentation from Fr Timothy Bartlett, Secretary General for the World Meeting of Families, taking place from 22nd to 26th August 2018. Breda O' Brien, teacher and Irish Times columnist will  share stories and life experiences with guest families. The day will include activities for children and will conclude with Mass at 3pm in the Basilica celebrated by Archbishop Diarmuid Martin. All are invited to attend this special day. 
OTHER UPCOMING EVENTS
Adult Catechism Studies
Jan, Feb (over 12 Weeks)
Time: 7.30pm (Registration from 7pm)
Venue: St. John's Rest & Care Centre
Presenter: Liam Sadler
Cost: Materials during course
New members are always welcome to join. The study of the Catechism of the Catholic Church strengthens and renews our faith. It is a serious presentation for adults of a living faith for to-day. It leads us closer to Jesus and life in him; to help enliven our love of God and of neighbour and to trust in his mercy for each one of us.
For bookings, email: faithrenewal@knockshrine.ie or telephone: (094) 9388100/ (094) 93 75355.

Day Retreats: Quiet Days for Busy People
Dates: Saturday's – 18th February, 11th March & 29th April
Time: 10am-4pm (Registration from 9.30am)
Venue: Taize Room, Prayer Guidance Centre
Presenter: Prayer Guides
Cost: €30 including lunch
Join us in Knock for a day of quiet reflection. Take time out for yourself to nourish your soul and discover new life in the heart of the Gospels, through Guided Meditation and quiet reflection. Take the opportunity of a one to one conversation with a Prayer Guide in order to gain a deeper awareness of who you are in God's presence.
For bookings, email: faithrenewal@knockshrine.ie or telephone: (094) 9388100/ (094) 93 75055
Training & Formation: Leading God's People in Prayer
Part 1: 6th March
Part 2: 13th March
Time: 8.00pm – 10.00pm
Venue: Knock House Hotel
Presenter: Mary Connolly, MA in Liturgy Studies
and member of the National Council
for Liturgy.
Cost: €10 for both evenings
'It is Good for Us to be Here', a resource published in 2015 by the National Centre for Liturgy, is a guide  to how the Community of Faith can gather together to pray on a weekday when the celebration of the Eucharist is not possible. These training and formation evenings will introduce lay people to Chapter 8 of this resource entitled "Leading God's People in Prayer." These two evenings will help participants in leading public prayer in their local church.
Those wishing to participate need to complete the Booking Form
Workshop for Choirs
Thursday 9th March
Location: Blessed Sacrament Chapel
Time: 7.30pm – 9.30pm
Cost: €10 per person

This workshop will be hosted by the Irish Church Music Association. Music covered will be Sacred Music for general use in liturgy and for Church seasons throughout the year. Music will be provided.
---
Enrichment Days (Ministers of the Eucharist & Word)
Day. 1 Ministers of the Word
Saturday 25th March
Time: 10.00am – 3.00pm, with Coffee and Lunch Break
Venue: Knock House Hotel
Presenter: Colette Furlong
Cost: €30 including lunch
It is the Lord who speaks! A day of reflection for Ministers of the Word focused on the spirituality and skills associated with this ministry in the Scriptures and its significance for the assembled people of God at Sunday and Weekday liturgies.
Day. 2 Ministers of the Eucharist
Saturday 1st April
Time: 10.00am – 3.00pm, with Coffee and Lunch Break
Venue: Knock House Hotel
Presenter: Fr John Paul Sheridan
Cost: €30 including lunch
'Living Eucharistically is Living Life as a Gift' (Henri Nouwen)
Ministers of the Eucharist are mandated with the awesome responsibility of bringing the Body and Blood of Jesus to the lives of those who hunger for it, both as part of the liturgical assembly and individually to the homes of the sick and housebound.  The meaning of the word is 'to give thanks' and it is this disposition which should be foremost in our mind as ministers. The day will offer Eucharistic Ministers the opportunity to spend some time exploring the theology of Eucharist and to consider its place the context of their vocation as lay Christians. It will be an opportunity to learn, to ponder, to meditate and to pray.
To book either of these days, email: faithrenewal@knockshrine.ie or telephone: (094) 9388100.
---
Day Retreat: 'Resting in the Arms of God'
Saturday 6th May
Time: 10.00am – 4.00pm
Venue: Taize Room, Prayer Guidance Centre
Presenter: Deirdre Ní Chinnéide
Cost: €30 including lunch
Our day long workshop invites you to come away from the demands of busy life and to listen and explore with others, the power and presence of God. With the arrival of spring, new light and growth reflects the constant call from God to Know, love and trust in his guidance deep in the heart of our lives.
 For bookings, email: faithrenewal@knockshrine.ie or telephone: (094) 9388100/ (094) 93 75355
---
Mary ~ An Oratorio
Saturday 20th May
In aid of Mayo Roscommon Hospice. Tickets €25 from Mayo Roscommon Hospice Shops or online from www.eventbrite.ie
A unique performance of new Sacred, Choral and Orchestral Music.
The World Premiere of an Oratorio in honour of Mary the Mother of God, composed and conducted by Cormac O´Duffy, will be performed by a massed choir including full orchestra (some 150 people in total) drawn almost entirely from local communities and neighbouring counties. Tickets are available on line at Eventbrite, and at all Mayo Roscommon Hospice shops at €25 each.  This promises to be a wonderful community event!
---
Knock to New York Pilgrimage
8th – 14th May 2017
A special pilgrimage to New York from Knock will take place from 8th -14th May 2017. Flying directly from Ireland West Airport to JFK with Aer Lingus private charter, the pilgrimage offers the chance to be a part of a memorable and historic trip.
The full itinerary includes a special Requiem Mass on Saturday 13th at Old St. Patrick's Cathedral for the re-interment of the remains of John Curry, the youngest of the Knock witnesses which will be celebrated by His Eminence Cardinal Dolan.
If you would like to find out more or make an enquiry, please contact the tour operators Joe Walsh Tours on (01) 241 0800 or email: bronwyn.clinton@joewalshtours.ie
---
BOOKING INFORMATION
If you would like to participate in any of the Faith Renewal events, please book your place by contacting Our Lady's Shrine, Knock, Claremorris, Co Mayo, Ireland.
Telephone: (094) 9388100/ (094) 93 75355