As Jesuit Week continues online, we would like to introduce you to our facilitator, Jim Deeds.
Jim Deeds is a husband and father living in Belfast. Having a background in social work, music, theatre and film, Jim currently works in pastoral ministry in the Diocese of Down and Connor working with people, groups and parish communities in each of the 87 or so parishes in the Diocese. He is works as a freelance facilitator helping groups approach pastoral planning from an Ignatian discernment perspective. Jim a published poet and author, drawing much of his inspiration from walking the streets and hills around Belfast and further afield. It was on these walks with co-author Fr Brendan McManus, SJ, that the idea for the book, 'Finding God in the Mess', was born. 'Finding God in the mess' is a book that combines strong, evocative images with reflections on everyday situations that face everyday people; all the time struggling to find where God is active in the nuts and bolts of life.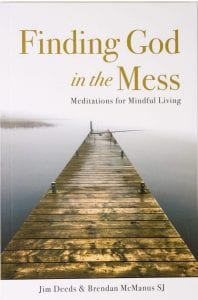 Finding God in The Mess – By Jim Deeds & Brian Mc Manus SJ
Modern lives can be very busy, saturated with technology and media, there isn't always time for happiness. It is the time out and the ability to look back and understand life events that bring about deeper, more satisfying living. Difficult situations of conflict, stress and worry arise, as do pleasant situations,  but there are ways through the challenges. It is essential to believe that there is something positive in everything, that God is in it somewhere, and that we can get through with help.
These meditations can be used by readers as a daily prayer source, for morning, daytime or evening prayer. They are also ideal for parish groups who might read a reflection and then come together for discussion.
Available to purchase here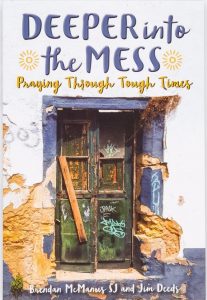 Deeper into the Mess – By Brian Mc Manus SJ & Jim Deeds
This is the eagerly awaited follow up to the bestselling, Finding God in the Mess. In this new collection the authors address tough issues such as fear, anxiety, suicide, anger etc. They have received much feedback from workshops based on the first book, and these are some of the topics on which people have asked for help.
As well as offering a meditation or a way of praying, in the book the authors suggest scripture and a simple ritual. Once again, the book is based on Jim and Brendan's own unique combination of practical prayer and Ignatian spirituality. Like the previous volume, this book is illustrated with their beautiful photographs.
Available to purchase here