In your own time, at your own pace…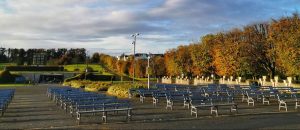 This is a lovely time of year to visit Knock Shrine with your family. Begin with a visit to the award winning Knock Museum to find out more about the compelling story of Knock from 1879 to the present day. One of the highlights at the museum is the fascinating 3-D model of Knock village, which depicts the village exactly as it was on the day of the Apparition on the 21st of August 1879. Knock Museum is open daily from 10am to 6pm and admission is free. 
Experience the peaceful silence of the Apparition Chapel, which encases the gable of the Parish Church where the Apparition took place.
Take time to light a candle together for your special intentions at the outdoor candelabrum.
Daily Mass is celebrated at Knock Basilica. The stunning Apparition mosaic at the Basilica is one of the largest of its kind in Europe and is made from over 1 million individual pieces of mosaic glass. See Mass times here.
Find an inspirational book or special gift at Knock bookshop. The children's corner has a wonderful collection of books for young readers. The bookshop is open daily from 9am to 6pm and is located adjacent to the Basilica.
Knock Shrine has over 100 acres of beautiful landscaped gardens to explore. Take a walk through winding pathways or sit a while and enjoy the changing of the seasons as the vibrant Autumn colours transform the grounds at this time of year.
See details of our  opening hours here.