We are delighted to welcome young people from all across the country for the Annual John Paul II Award Pilgrimage to Knock Shrine.
This is the Award's fourth pilgrimage Knock Shrine.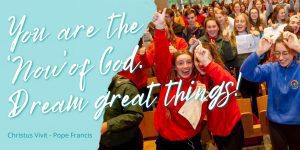 PILGRIMAGE PROGRAMME
10:30am Assemble in the Basilica
11:00am Welcome ceremony
11:30am Song, prayer, discussion and guest speakers.

GUEST SPEAKER: Fr Peter McVerry – Homelesses Campaigner.
12:45pm Lunch break
2:00pm A history of Knock and Prayers of thanksgiving
2:30pm Celebration of the Eucharist, lead by Award Patron, Bishop Donal McKeown.
Please note that Public Mass at 12 noon and 3pm will take place in the Parish Church today.
The Pope John Paul II Award is a faith achievement award for young people between the age of 16 and 18. It is non-competitive, inclusive, flexible and voluntary.
The Award enables participants to take an active part in the life of their Church – in the life of their community and society. It enables young people become more aware of the teaching and role of the Catholic Church in the world and to engage at a deep level with Christ.
The Award was created to commemorate the late Pope Saint John Paul II who was so committed to young people and who had such belief and confidence in them.