Knock Shrine is inviting all parishes to come along to a very special weekend event on March 12 and 13 to celebrate the Jubilee of Mercy.
'Engaging the Heart' is two days of talks, testimony, workshops, music, reflection, a healing and reconciliation service and a choral concert, all exploring the themes of forgiveness, hope, healing and reconciliation.
This is a free event with something for everyone, young and old alike.
Some of the speakers include John McAreavey, well-known GAA player and co-founder of the Michaela Foundation, and Rev Ruth Patterson, a Presbyterian minister and prominent campaigner for healing and reconciliation in Northern Ireland.
The event begins at 10 am on Saturday, March 12.
The first part of the day will consist of talks by Rev Patterson and John McAreavey.
In the afternoon, there are four workshops to choose from – followed by a talk by Fr John Harris on the Sacrament of Reconciliation and its meaning and relevance.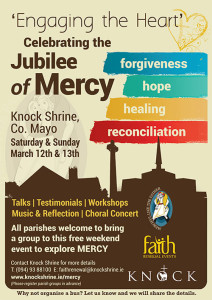 This will be followed by a healing and reconciliation service with music, reflection and guided meditation.
Later in the evening, at 7.30pm, there is a free choral concert, called 'Songs of Praise', in the beautiful surrounds of the fully refurbished Knock Basilica. Choirs from across Ireland will perform seperately and together in this Mercy themed concert.
The workshop session will be repeated on Sunday morning and participants can then celebrate the 12 noon Mass in the Basilica.
Everyone is invited to come along, on one or both days, either as an individual or as part of a group.
All parishes are welcome to bring a group (please register parish groups in advance).
'Engaging the Heart' looks set to be a joyful and inspiring event with a varied programme of excellent speakers, workshops, ceremonies and music.
We hope to see you there!
For further information, please contact Frances Toner, Ireland's National Marian Shrine, Knock, Co Mayo. Telephone 00353 (0) 94 9388100 or email faithrenewal@knockshrine.ie.