The School Summit is a 2 day event held annually in April that caters for TY, fourth, fifth and sixth year students and their teachers.
The event covers a wide and varied spectrum of topics and allows students and teachers to Engage, Explore and Experience with the many opportunities and resources that are available to them.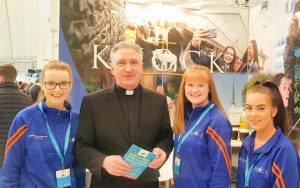 We were delighted to be invited to represent Knock Shrine at the School Summit this year together with our Director of Youth Ministry, Nicola Mitchell who was invited to act as guest compére at this national event.
Over 2,00 students were present across the 2 days and so many of them stopped by to chat and find out more about Knock Shrine and our volunteer/ seasonal employment opportunities.
We always welcome the chance to get out there and create awareness and engagement about the Shrine.
Today, Fr Richard stopped by to wish the staff well and to see our colourful exhibition stand which attracted lots of attention.
Thanks to Nicola, Louise, Aoife and Aimee who did such a wonderful job of representing the Shrine and giving a  warm friendly welcome to the students.