The Mayor of Boston, Martin Walsh, says he is "delighted" to be joining an historic first chartered pilgrimage from Boston to Knock Shrine in Ireland this July.
As part of the trip, Mayor Walsh is to attend the official re-dedication ceremony of Our Lady's Basilica in Knock on July 16th.
The Basilica, an impressive church which can accommodate some 3,500 pilgrims, underwent a major refurbishment project over the past two years and the re-dedication ceremony will celebrate the completion of that work.
Archbishop of Boston, Cardinal Seán O'Malley, is leading the pilgrimage to Knock.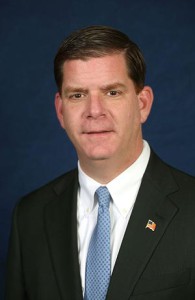 The pilgrimage is an historic first for the west of Ireland as it will be the first ever Aer Lingus operated flight from Boston to Ireland West Airport Knock, an international airport located 20 minutes away from Knock Shrine.
"I am delighted to be joining Cardinal O'Malley as part of the pilgrimage from Boston to Knock Shrine… a shrine which has personal meaning for not only myself, but Irish people everywhere," said Mayor Walsh (pictured left).
"This visit will highlight the strong economic and cultural ties that Boston shares with the west of Ireland. I look forward to participating in this historic event and to continuing to work to strengthen our connections with Knock and all of Ireland," added Mayor Walsh.
Knock Shrine in Co Mayo is the site of a Marian Apparition in 1879. Today, Knock is an international site of pilgrimage and prayer, visited by over one million people each year.
(Photograph of Knock Basilica courtesy of ADWP-PMP Photography)
---
Related articles