Knock Museum recently received an award from The Heritage Council under the Museum Standards Programme for Ireland (MSPI) at a ceremony in Kilkenny Castle.
Established by the Heritage Council in 2006 to benchmark and promote professional standards in the care of collections, the Museum Standards Programme for Ireland (MSPI) has attracted involvement across the cultural spectrum, from national institutions to small, volunteer-led organisations. A testament to the continued dedication and professionalism of those in sector in 2019, Knock Museum is among of 65 museums and galleries to benefit from participation in the MSPI to date. While recognising the achievement of standards through accreditation, the MSPI is also about supporting the museum community as a whole. Its participants engage in a range of processes, which help to secure Ireland's collections for future generations and to engage its visitors with what those collections have to offer.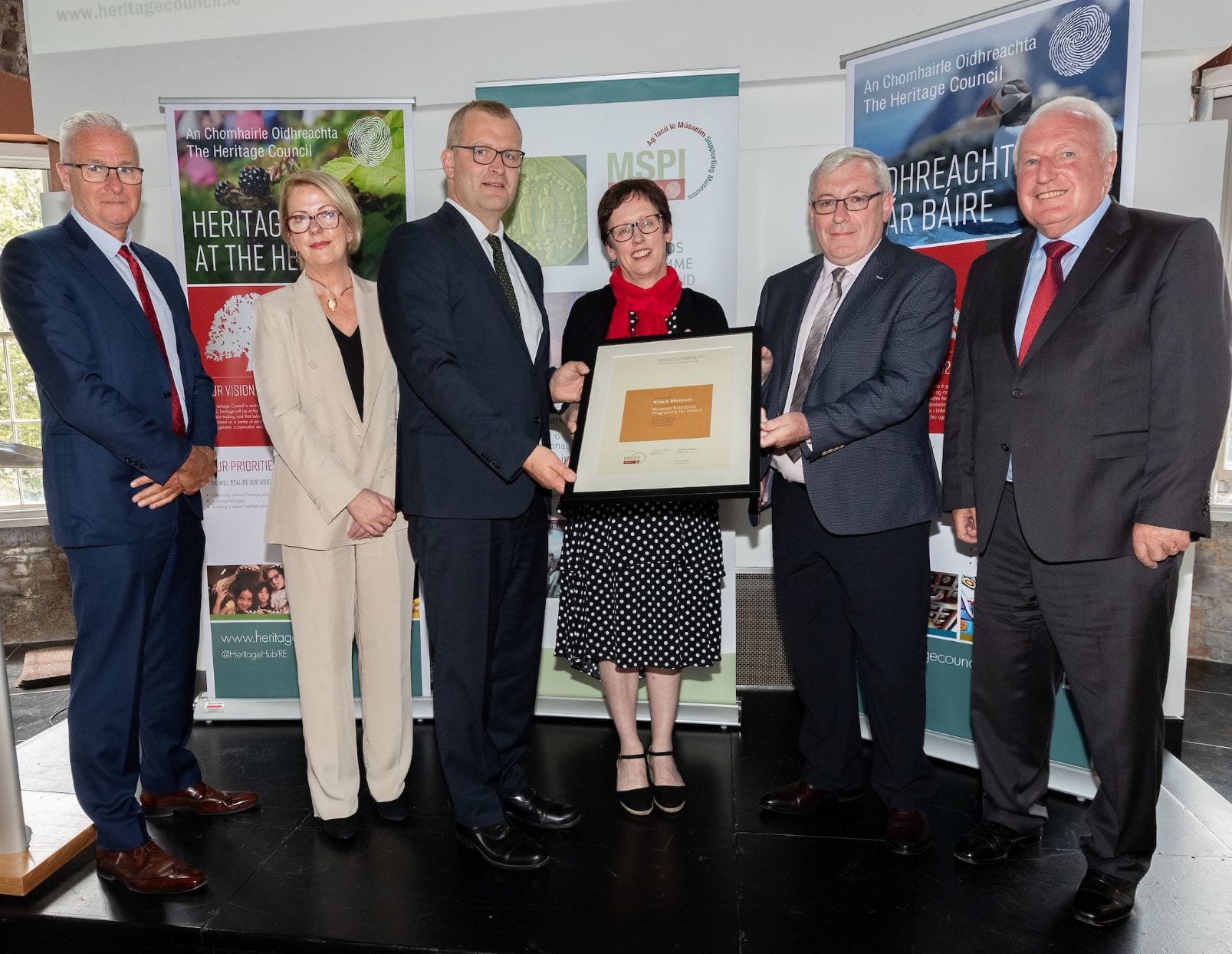 Grace Mulqueen , curator at  Knock Museum joined museum workers – professional and voluntary – from across Ireland at the MSPI awards ceremony in Kilkenny Castle today. They were among ten Irish museums recognised for excellence and professionalism. The rigorous assessment process requires museums to meet each of 34 internationally recognised MSPI standards ensuring the highest standards in visitor services, collections care and governance.
Knock Museum achieved Full Accreditation in 2009 and has now received Maintenance of Full Accreditation. In awarding a new certificate, its Assessor commented, "As with previous applications Knock Museum submitted a very thorough and comprehensive application". He also noted that Knock Museum is, "a resourceful and flexible institution. It is now a source of advice for other museums." The Assessment report notes that the Museum has been a mentor to the Michael Davitt Museum receiving Full Accreditation under the Programme.
In awarding a Maintenance of Accreditation Certificate to Knock Museum the Heritage Council also acknowledged the recent retirement of James Campbell, who together with the Museum's Curator, Grace Mulqueen, has been a much-appreciated supporter of the Programme since Knock Museum was invited to participate in a pilot study for a museum accreditation scheme for Ireland.
Speaking at the Heritage Council's Museum Standards Programme for Ireland awards ceremony, Mr John Paul Phelan TD, Minister of State for Local Government and Electoral Reform spoke about the significance of the cultural sector in Ireland and in particular to Kilkenny:
"Maintaining and cherishing our museums is of great importance to me and it is very appropriate that this ceremony is taking place in Kilkenny, where culture and heritage are at the core of what happens here.  High standards of care for our heritage and  investment in high quality design will ensure we pass on a proud legacy for future generations. At a local level there has been great work done to raise the standards of care across Irish museums, and I would like to congratulate and thank all those involved, especially those who are receiving awards here today".
Speaking at the awards ceremony, the Chairman of the Heritage Council, Mr Michael Parsons, said:
"I applaud each of the recipients awarded today and acknowledge the significance of achieving accreditation after many years engaged with the process. These awards demonstrate very clearly the mammoth work being done by a dedicated and resourceful sector, often against the backdrop of limited resources, to ensure the collections in their care are safeguarded and made accessible to the public".
This year's accreditations followed an extensive assessment programme carried out by national and international experts.  Of the ten museums accredited , Full Accreditation has been awarded to the Michael Davitt Museum for the first time while Dublin City Gallery The Hugh Lane, Knock Museum, the National Gallery of Ireland, the National Print Museum and the Zoological Museum, Trinity College Dublin, have retained Full Accreditation that had been previously won, while four others – Allihies Copper Mine Museum, Crawford Art Gallery.