Our new Christmas Blessings Candle from Knock Shrine has just arrived.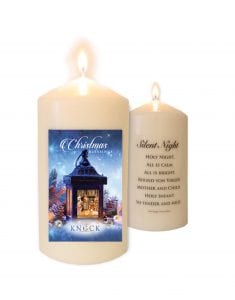 Bring the spirit of Christmas to your home with this beautiful natural wax candle! The front of the candle features a stunning image of the Nativity scene from Knock Shrine. The back features a verse from Silent Night. The atmospheric glow of the candle will give your home a cosy feeling and would work wonderfully with home crib or as a centerpiece as part of your table setting.
It is a lovely  Irish tradition to light a candle at Christmas time to guide Mary and Joseph on their journey to Bethlehem. Our Knock Family Candle is an ideal Christmas gift. The Knock Family Candle is a beautiful solid wax candle, featuring the Nativity scene at Knock Shrine, with the opening lines of 'Silent Night' on the reverse. Measuring 16.5 cm.
A vanilla scented LED version of this candle is also available on our online shop.