Knock Shrine to pay homage to last surviving Witness with special Requiem Mass in New York
It is not every day that one can embark on a direct flight from Knock to New York, however on Monday 8th May 2017, for the first time in history, Knock Shrine will lead a pilgrimage from Ireland West Airport Knock direct to JFK International.
This will be a special and historically significant 7-day trip to have the remains of the youngest Knock Apparition witness, John Curry
re-interred at Old St. Patrick's Cathedral, New York on Saturday 13th May where a special Requiem Mass will be celebrated by His Eminence Cardinal Dolan. It is a great honour bestowed by the Archbishop of New York for Knock Shrine and for John Curry's family to have his remains transferred to the historic centre of the Irish.
John Curry was a native of Knock, who was just five years old when he, along with fourteen others witnessed the miraculous phenomenon at the gable wall of Knock Parish Church on the 21st August 1879. As a young man, he went to New York where he remained until his death in 1943. He lived out his final years with the Little Sisters of the Poor, and is currently buried at Pine Lawn Cemetery, Long Island.
Renewal of Knock Shrine – International Pilgrimage
This pilgrimage is a significant development, not only for the Shrine in recognising John Curry, but also in endeavouring to build long-term relationships with the Church and diaspora in the States. It is also an enormous boost to Ireland West Airport having successfully welcomed pilgrimages from New York in 2015 and Boston in 2016. This pilgrimage further highlights the possibilities of pilgrimage growth for Ireland's National Marian Shrine.
When speaking about the pilgrimage, Fr Richard Gibbons said:
[blockquote animation="" author="" ]It is a hugely significant step for the people of Knock and the Airport. We will have the honour of celebrating the Requiem Mass with Cardinal Dolan. I like to think of the re-interment as bringing us, the people of Knock, bringing John Curry home. Rather than having the ability to bring him back home to Knock, he will be brought to Old St. Patricks Cathedral, which will give him the recognition he deserves as a witness to the Apparition and as someone who is so central to the rich history of the Shrine. Those coming on the pilgrimage will have the opportunity to be a part of something very special, as this is a once in a lifetime event, flying out from Ireland West Airport to New York, taking in the various sights and places of significance and taking part in the Mass at St, Patrick's Cathedral. We expect it will attract a great deal of interest, not just here in Knock where there is great excitement, but also in other parishes across the country and for people that might like to consider sharing this experience with us.[/blockquote]
[space height="15″]
The pilgrimage to New York is just one aspect of the transformative development and renewal of Knock Shrine under the ambitious 'Witness to Hope' plan, which has incorporated the refurbishment of the iconic Basilica at Knock, a brand new offering of faith events, including lively day retreats, workshops, concerts and special ceremonies, and a number of high-profile guest speakers throughout the year. This is all a part of a vision for Knock and the desire to offer pilgrims and parishioners something new, interactive and engaging.
At the centre of the great plan is the pilgrim, and how best to meet their needs, both practically and spiritually. Fr Richard Gibbons continued:
[blockquote animation="" author="" ]It's certainly been a challenge for me, but one that I welcomed because I have such a strong sense that Knock is a very special and unique place. Aside from tending to the needs of our pilgrims and parishioners, I feel that an important aspect of my role is to go out into the world and bring the message of Knock abroad and invite to people to experience this wonderful place.[/blockquote]
[space height="15″]
Knock Shrine began to forge new connections in 2015 when the first organised pilgrimage from New York was welcomed into Knock Airport. The group of 170 were accompanied by His Eminence Cardinal Dolan and took part celebrations to mark the 130 year anniversary of the Apparition at Knock. This was followed last year by the visit of Cardinal Sean O'Malley and a group from the Archdiocese of Boston. The visits were key in connecting with the Irish Diaspora abroad the hope of inspiring many others to make the journey home to experience a pilgrimage at Knock.
 New York Connections to Knock's Youngest Witness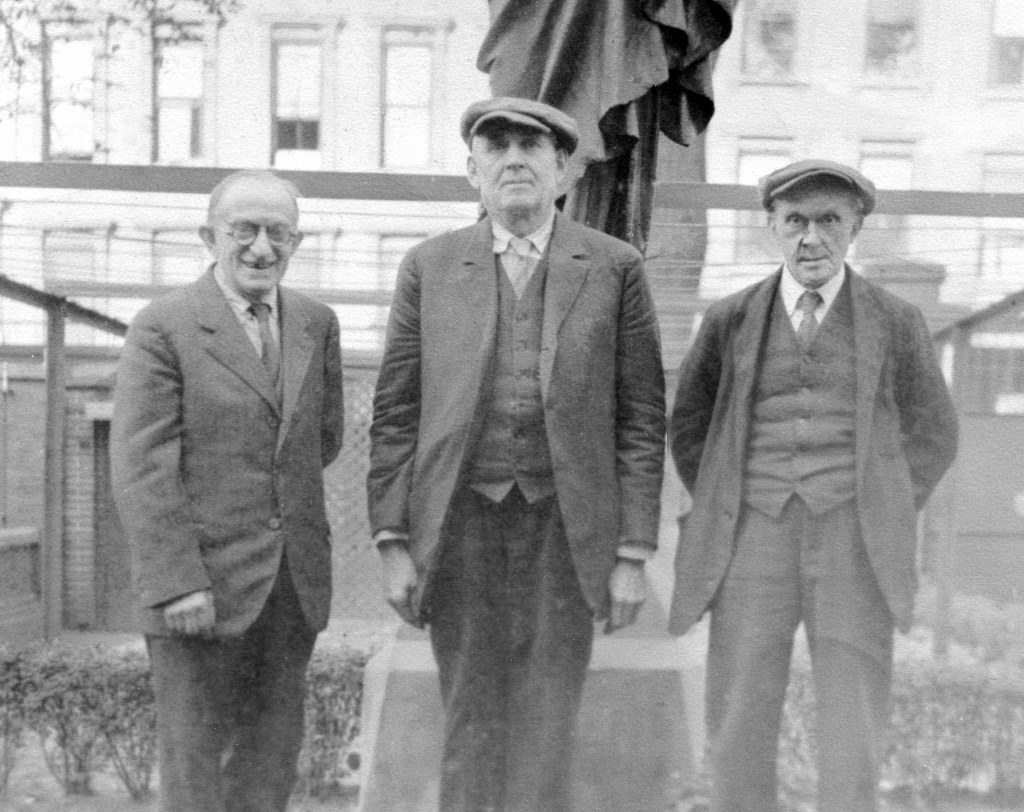 Anyone who is familiar with the story of Knock will know that there were fifteen official witness to the Knock Apparition, all of whom were ordinary people from the village and local area. Most of the witnesses lived out the remainder of their lives in Knock and ten of them are buried in the old cemetery there.
As a witness, John Curry is especially interesting, as he was the youngest of the group, aged just 5 years when the Apparition occurred in 1879. His testimony was given during the Commission of Enquiry which was held in October that year. Due to his height, it was stated that during the Apparition he was held on the shoulders of his cousin, Patrick Hill so that he could see the figures. He described, in an innocent and child-like manner, the "bright lights", and the beautiful images of the Blessed Virgin and St. Joseph. One can imagine the impact that an event such as this would have on a young child.
Later, as a young man he, like many others at the time immigrated to America in search of work. He worked for many years as a labourer and later as an attendant in the City Hospital on Welfare Island, New York. In later life, when his health began to fail he went to live with the Little Sisters of the Poor on Long Island. He was described as a quiet, unassuming man who served Mass every day for the Sisters. It was not until shortly before the 2nd commission of enquiry in 1936 that it became known to them that he was one of the witnesses to the Apparition at Knock.
In a letter to Fr. Dan Corcoran, Curate of Knock Parish in 1936, he wrote 'The night of 21st August 1879, I remember it as well as I do last night' and goes on to describe in detail the Apparition as he witnessed it.
At the second Commission of Enquiry John Curry was interviewed by a special tribunal which was established in New York. During the lengthy interview he described seeing Our Lady, St. Joseph and St. John the Evangelist along with a Lamb and Cross on an altar with Angels:
[space height="15″]

[blockquote animation="" author="" ]It appeared to me that they [figures] were alive, but they didn't speak. One of the women there, Bridget Trench kissed the Blessed Virgin's feet and tried to put her arms around the feet but there was nothing there but the picture. I saw her do that. The figures were life-size and I will remember them till I go to my grave.[/blockquote]

He was remembered fondly by those at the home as a man of strong faith, serving Mass every day without fail until shortly before his death. When asked in later years about the Apparition he would tell his story and his memories of growing up in Knock and of serving Mass for Archdeacon Cavanagh whom he remembered well. He told the Sisters that the Blessed Mother never refused him anything that he asked for. His words may well be remembered on May 13th at Old St. Patrick's, a perfectly providential location as the historic centre of the Irish where he will be laid to rest. The Mass will take place at 11am followed by a special Mass of Thanks the following day on Sunday 14th May at 10.15 in New St. Patrick's Cathedral prior to departure later in the afternoon.

Those interested in taking part in the 7-day pilgrimage to New York can find out more by contacting the tour operators, Joe Walsh Tours.
*Seat-only flights are now also available.* Flight departs from Ireland West Airport on Monday 8th May 13:00 and arriving at JFK 15:05.

T: (01) 241 0800  E: bronwyn.clinton@joewalshtours.ie
W: www.joewalshtours.ie