Marty Morrissey inspires at Knock!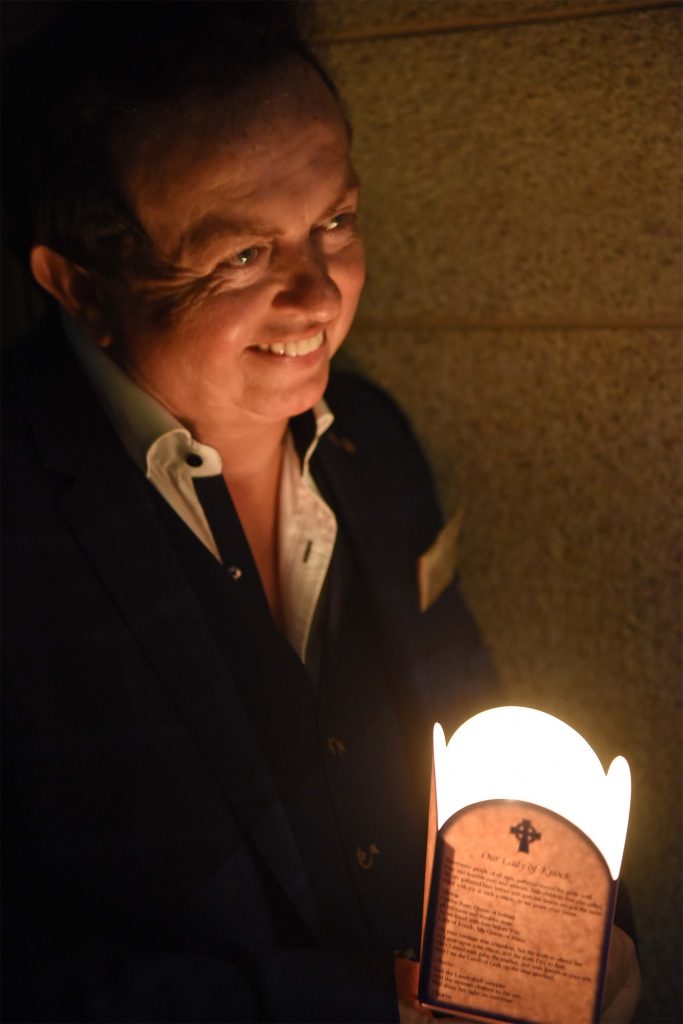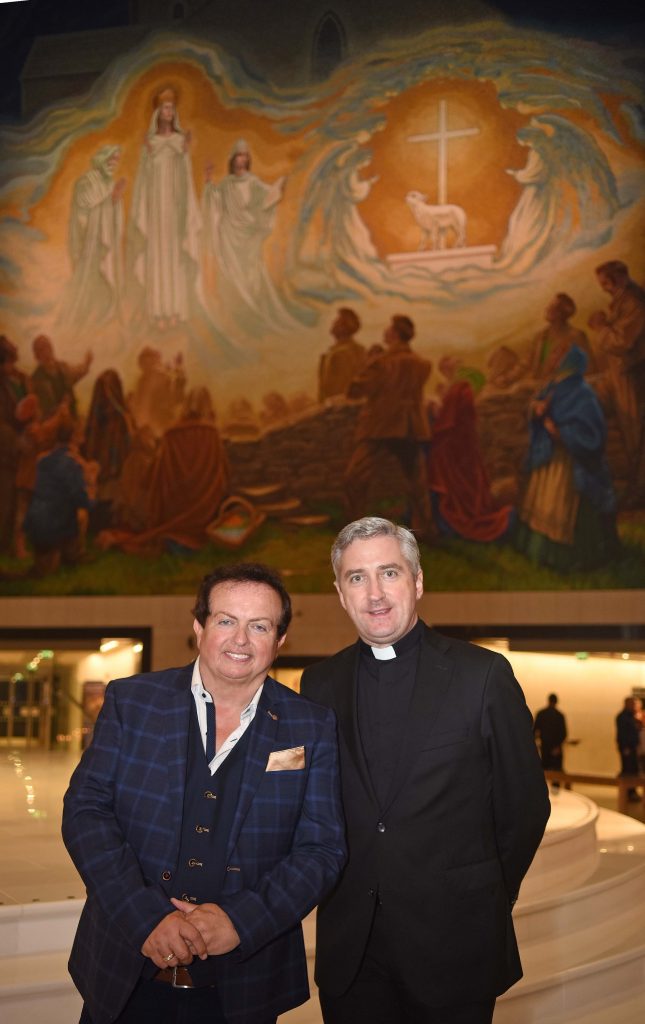 16 August 2017
Marty Morrissey made his debut public appearance at the National Novena in Knock on Wednesday 16th August as part of the Novena 40 year celebrations at Knock Shrine. The Chief Celebrant at the Mass was Fr Conal Eustace, PP of Castlebar joined by Fr Richard Gibbons, PP,  and Rector of Knock Shrine and Fr Nigel Woollen, Curate at Knock. The beautiful music was performed by Úna Nolan, Director of Music at Knock Shrine accompanied by Claire Lavin.
The theme for the 40-year Novena celebrations was 'Living Life to the Full'. 
Marty Morrissey was officially welcomed and introduced by Fr Richard Gibbons.
 Marty opened by confessing at his being "stunned" after being asked to speak at the Novena. He was quick to highlight that he was just an "ordinary joe soap", just trying to do his best to live life to the full.
There were many moments of good humour, particularly when Marty encouraged each person present to say "I love you" to their neighbour. Amongst all of the laughter, there was also genuine, thought-provoking and inspiring moments of sadness, humour, joy and pride. Firstly, Marty talked about his personal life, the importance of friendship in our overall happiness, family life and appreciating every day as a beautiful gift.
The Power of Words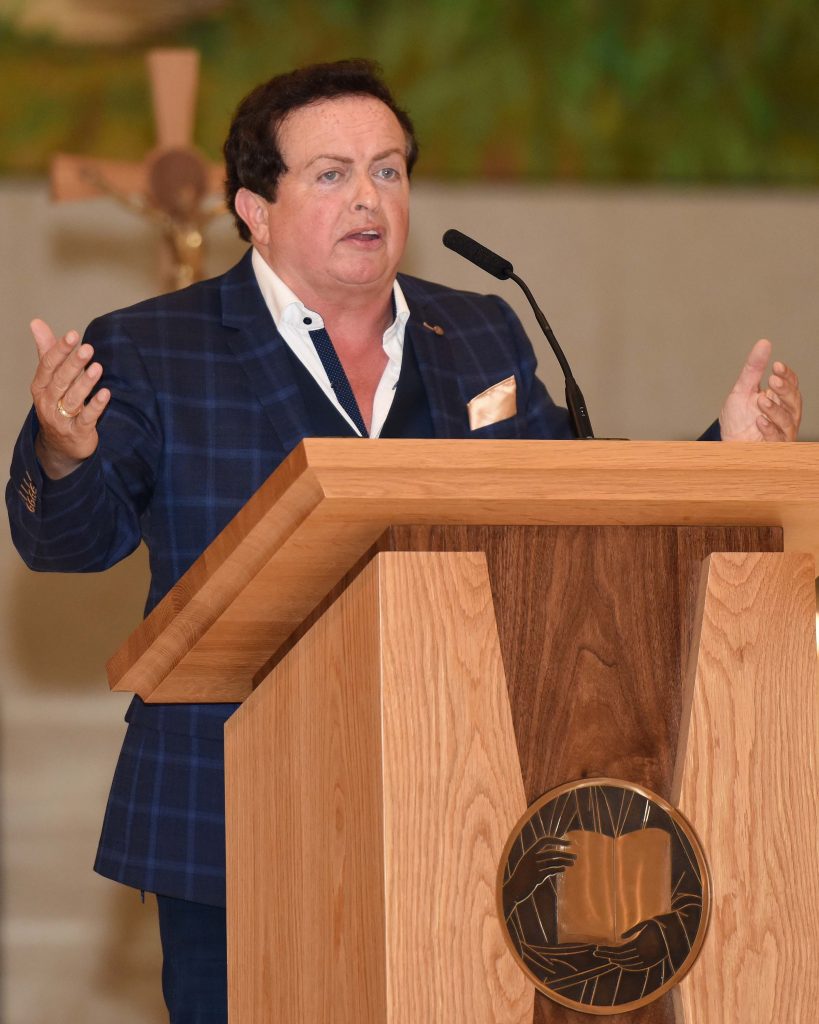 "What do we need to live life to the full? There are many components, but in my humble opinion the first and most important is love. Love is the greatest power on earth and conquers all. I genuinely find that if you give positivity, you get positivity back. As Pope Francis has said in his writings on the Joy of Gospel, 'One of the most serious temptations which stifles boldness and zeal is a defeatism which turns us into sour-puses!" Feelings of excitement, enthusiasm and passion come from love and when we feel any of those with consistency, it gives us a life filled with exciting things.
If love is important to live life to the full. Then so too is communication. That is number two on my list. How do we live life to the full as humans? What makes us fulfilled and happy? The idea of the spoken word, what we say and how we say it is crucial. The throwaway remark, the critical comment, can have an impact that you may never be aware of. To quote Dale Carnegie, author of 'How to Win Friends and Influence People', 'perhaps you will forget tomorrow the kind words you said today, but the recipient may cherish them for a lifetime. Kind words do not cost much, yet they can accomplish so much. What we say can increase the sum total of this world's happiness. Although words can convey positive and encouraging information, the power of our words can also convey negative and discouraging information. Words can destroy another person's spirit or self-confidence. The power to use words is a unique and powerful gift from God."
You don't always need words..
"Most people talk more about what they don't love, than about what they love. In life, we often forget and take for granted the effect our words can have on others. The kind word we spoke today may well be forgotten very quickly, however it may be remembered and cherished by the recipient for many years." He spoke about the fact that we are all guilty of focusing on the negative, dwelling on the things that we don't have in our lives, instead of appreciating all that's great in our lives. He related the heart-warming story of Kilkenny hurling fan Jennifer Malone who melted hearts around the country when a photo of her consoling Waterford star Pauric Mahony went viral after a crushing defeat.
The point of the story is simply that our actions can so much more effective than our words.
"All of this brings me to the most important ingredient of living life to the full, our families. Our cherished loved ones. We all come from families and we owe it to them to live in peace and harmony, to love one another and to look out for one another. Isn't it sad that there are so many families not getting along? As long as we take people for granted, as long as we fail to recognise their needs and desires, we cannot expect to cultivate relationships of peave and harmony and certainly we're not living life to the full. I know of one family that have not spoken to each other for many years over a right of way, a piece of road that nobody uses. How sad..how terribly sad. In order to cultivate those relationships of peace and harmony, we need to create space in our lives, we need to make time for God. Family has always been important to me, and when I say family I also include a very close circle of friends.
The GAA is like a family, we have arguments and disagreements, be it at club or county level, and yet when crisis arrives, we put our arms around each other and support each other. I have often asked "what would Ireland be like if we didn't have the GAA?" It would be very quiet and very different. That incredible community spirit, that sense of pride, of belonging, of this is where I am from. My village, my parish, my church, my town, my county. Its genuinely unique and special."
[new_royalslider id="25″]
Social Isolation
Marty recalled happy childhood memories of visiting his parents' home place in West Clare, of neighbours helping on another to foot turf, of the great community and the way people took the time to visit each other, to talk or to check on an elderly neighbour. He laments of these bygone times and of our preoccupation with mobile phones and the digital world, noting that he too is "as guilty as anyone". He hoped that all present would be encouraged or inspired to come up with ideas to eradicate loneliness in their own towns and villages.
"Since my father died, I have become very aware of all of the people who are living alone in rural and urban Ireland and are very lonely. Once upon a time, when people had much less and more time, people used to visit their neighbours to make sure they were okay.  Now it's different. People are too busy or too distracted by their mobile phone, emails or twitter. It's the way of the world right now and I am as guilty as anyone else. Loneliness is a real problem in Ireland and it's very sad."
Youth in Ireland
"When Pope John Paul II came to Galway in 1979 and also visited this very Basilica, he said his famous words, "Young People of Ireland, I Love You". I am not going to be as dramatic as that, however I want to say that I want you all to know how great your sons, daughters, nieces, nephews, boyfriends and girlfriends are. All I hear is that the youth of today are gone mad on drink and drugs. That problem is there and more and more love and help is needed in that area, but let me tell you that my experience of travelling around the country, is that we have a nation of bright, intelligent, caring and mannerly young people who will ask me always for a selfie or an autograph for some unknown reason. I want to thank them for their good manners, for their support for me on twitter and other social media outlets. You as parents and family members need to be applauded for what you have done for your family and for this country. So let be positive here in Knock and give all parents and their children a massive, massive round of applause!"
Mayo for SAM!
"I can't come to Knock and not mention the Mayo football team. Next Sunday they will appear in their seventh All-Ireland football semi-final in Croke Park when they face Kerry. The people of Mayo, and I say this genuinely, are the greatest supporters in the world. In my humble opinion, your footballers to me, are all hero's to have given so much of their lives to a common cause, their love of football and Mayo. I come to Castlebar in the depths of winter and the stand is full. Your passion, your love of football is unquenchable and I love you for it. I come to Knock as I said in the beginning, as one of you, looking for light to guide me. I often stop for a moment after finishing my report or after doing a match commentary in Sligo, and say a prayer at the back of the church. Many times I stay for the 7.30pm Mass. I have always wanted to keep that moment of reflection quiet but let's face it, my secret is out after today! I come to this sacred place to thank you Lord for what you have done for me and for the talents you have given me. I never really ask the Lord for anything, but tonight I will. Can you please Lord, with the greatest respect to all my friends, in Kerry, Dublin and Tyrone let Mayo win the All-Ireland football final! Now I have to put my RTÉ hat back on and say may the best team win! But now you all know where my heart is. I would love to see David Clarke, Lee Keegan, the O'Shea brothers and all of the rest of the lads bring Sam Maguire home. So finally, here's my advice on life. And I am not one for giving advice but here it is anyway. Give it welly my friends! Enjoy every day. Put a smile on. Say "Hello, how are you?" If you are having a row with somebody, get in contact and say we need to sort this out because life is short. Wave to people, as we always have in Ireland, to on-coming cars although we mightn't have a clue who we're waving at! Isn't that the most unique thing ever in all the world? I love that tradition and I hope we never lose it. I think it is so unique to us. When you wake up in the morning say thank God and lets go! Because we really don't know what's ahead of us in life. Give love, be loved and remember in this country, in this little island of ours on the periphery of Europe, we are all Irish. This had been one of the greatest honours of my life to speak here at Knock Shrine. I would like to thanks all of the people at the Shrien and to give a special thanks to Fr Richard Gibbons who was brave enough to ask me! I hadn't met Fr Richard until today but let me tell you ladies and gentlemen, Fr Richard has the x-factor! And now as my words are coming to an end, I'm going to give him two tickets for the All-Ireland Final as well! I hope you my friends have got something out of listening to me as we are all in this journey together. Let end by given three great cheers for Mayo!"
Marty received an enthusiastic applause and standing ovation from the congregation.
WATCH the Ceremony here