Message from Pope Francis to Knock Shrine as a special place of welcome
Fr Richard Gibbons, PP and Rector of Knock Shrine has expressed gratitude on behalf of Knock Shrine for the great honour given to it by Pope Francis in officially recognising Knock as both a Eucharistic and Marian Shrine.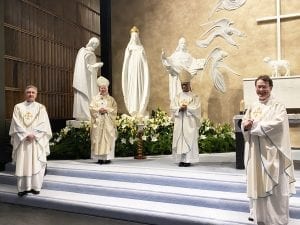 During yesterday evenings 7.30pm Mass, celebrated by Most Rev. Michael Neary, Archbishop of Tuam from the Apparition Chapel at Knock Shrine, Pope Francis delivered a special message via video link. The message was broadcast worldwide on the Knock Shrine website and on Vatican TV and Radio. Also in attendance were Archbishop Jude Thaddeus Okolo, Papal Nuncio and Fr Francis Mitchell, Tuam Diocesan Secretary.
During his message, Pope Francis explained the significance behind this recognition of the Shrine;
"My dear brothers and sisters present at Knock, and all of you who may be watching from afar, the elevation of the National Sanctuary of Our Lady of Knock to an International Sanctuary of Special Eucharistic and Marian Devotion is a great responsibility. You accept to always have your arms wide open as a sign of welcome to every pilgrim who may arrive from any part of the world, asking nothing in return but only recognizing him as a brother or a sister who desires to share the same experience of fraternal prayer. May this welcome be joined with charity and become an effective witness to a heart which is open to receiving the Word of God and the grace of the Holy Spirit which gives us strength."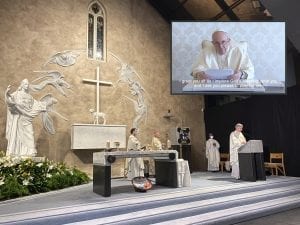 Speaking about the importance of the message and what is signifies for the future of the national Shrine, Fr Richard Gibbons said:
"Since the time of the Apparition, Knock Shrine has been a place of hope and given comfort and consolation to people. The completely unique nature of the Apparition scene is something that has fascinated and inspired people for generations. We are truly grateful for this recognition from Pope Francis, through the Pontifical Council for the Promotion of the New Evangelisation, which recognises Knock on an international level in terms of its special status as a Eucharistic and Marian Shrine. I wish to sincerely thank Archbishop Rino Fisichella, President of the Pontifical Council for the Promotion of the New Evangelisation and Archbishop Michael Neary, Archbishop of Tuam, without whom this would not be possible. This is an historic milestone for Ireland's National Eucharistic and Marian Shrine."
The Mass including the full message from His Holiness, Pope Francis is available to watch online on the Knock Shrine YouTube Channel.