For many of us, its been a long winter of hibernating, isolating and keeping within the confines of our own homes.
Today, we will share with you some of the reasons why Knock Shrine is the perfect place to ease yourself back into 'normal' life. Enjoy the slow, peaceful pace, unique atmosphere and time to simply reconnect with yourself. If its been some time since you caught up with a friend or family member, why not consider taking a day to enjoy some quality time at Knock Shrine?
Whether you are coming to Knock as a seasoned pilgrim or a stranger to this place, you will find a unique, beautiful open space with a completely unique and fascinating history.
Place and People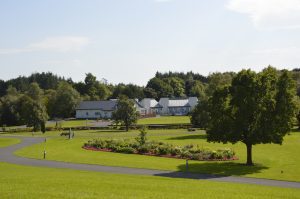 Since 1879 pilgrims have been drawn to Knock and it is here that our story begins. You can explore the history of Knock from the time of the Apparition on the 21st August 1879, right up to our present state as an International Eucharistic and Marian Shrine. The best way to begin your day is with a visit to the award-winning Knock Museum which is currently offering free admission to all. Here you can deepen your understanding of Knock and view their wonderful collection of artefacts which includes Archdeacon Cavanagh's 'Diary of Cures', a collection of letters dating from 1879-1880. The latest addition to the Museum is  a 'Village Model' which depicts the village of Knock exactly as it was on the evening of the Apparition. The incredible miniature details provide fascinating insights into the historical and social context of the time. This exhibition is enjoyed by history enthusiasts as well children/ families in equal measure!
Explore beautiful, sacred grounds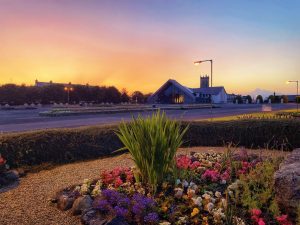 Listen to the gentle rustle of leaves, birdsong, breath in the fresh air and let yourself relax in the beautiful grounds of Knock Shrine. Enjoy a self-guided tour of the Shrine grounds using an Audio Guide. This service is free of charge and is a great way to explore the many beautiful artworks and points of interest and learn about their significance.
As you enter the grounds, you will notice the vastness of the space, stunning gardens and many meandering pathways to explore. The grounds are dotted with many interesting sculptures, historic monuments, statues and ecclesiastic artworks. Our outdoor holy water fonts were designed by the renowned sculptor Imogen Stuart and each has its own unique and insightful design based on scenes from the bible and the lives of the Saints that are connected to water. Take a moment to sit at one of our new outdoor seating spots which are dotted around the grounds.
Time to Pray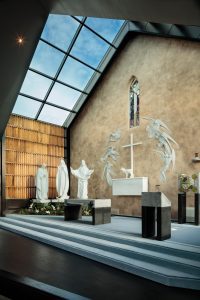 Knock Shrine is a place where culture and faith align in a most profound way.When people come to Knock, they leave ordinary life behind and gain time and space for reflection. The Apparition Chapel at the heart of the Shrine, offers a quiet, peaceful space for prayer and contemplation.
You can attend Mass which takes place daily at Knock Shrine. Adoration and the Sacrament of Reconciliation are also available daily (see our Mass times for further information). The Stations of the Cross in the Basilica depict the passion and death of Jesus with dramatic effect. Each Station was painting by artist Ger Sweeney using oil on stretched raw linen. The large panels take account of the extent and scale of the Basilica and yet transcend the limits of their physical surroundings, encouraging contemplative engagement in the final journey of Christ on earth. You can pray the traditional Stations of the Cross either outdoors, in the Parish church or in the Basilica.
See the Apparition Mosaic
The magnificent Apparition Mosaic in the iconic Knock Basilica captures the Apparition scene of 1879 in all its glory. If you look closely, you will see that the mosaic is comprised of over 1 million pieces of vibrantly coloured glass and gold tesserae (mosaic tiles).
Reading to Enrich and Inspire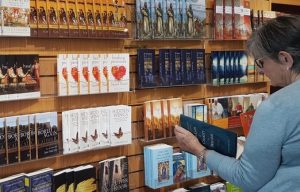 The Bookshop at Knock Shrine is a quiet haven where you can browse through a wide selection of spiritual books, journals and unique everyday titles as well as all of the latest new releases and popular books. Our categories include children's books, saints, prayer and devotion, faith and spirituality, pastoral as well as health and well-being. The bookshop also stock seasonal resources for Lent, Easter, Advent and Christmas as well as liturgical calendars and diaries. You will also find a special selection of gift items, including bespoke gifts unique to Knock Shrine.
Plan your time at Knock on our 'Plan Your Visit' page on the Homepage of the website. Opening Hours are available here.
Eat & Stay
---
Café Le Chéile at Knock Museum offers a warm welcoming space to relax and enjoy delicious, freshly-prepared food while taking in the beautiful views of the gardens at Knock Shrine. 'Le Chéile' is the Irish term for 'together' and Café Le Chéile is a perfect meeting place for people to come together and take some time to relax as part of their day at Knock Shrine.A range of daily specials, lunches, light bites as well as baked deserts and treats are available and group bookings are welcome.
St Mary's
St. Mary's is located beside Knock Shrine and is the perfect base to experience the peace and tranquility of this sacred place. Home-cooked meals are served on a daily basis,  group bookings welcome. Additional facilities at St. Mary's includes a TV lounge, a chapel and a meeting room, all of which are available to  our guests, whether travelling as an  individual or part of a group.
Knock House Hotel is nestled in 100 acres of picturesque grounds and is less than a 5 minute walk from Knock Shrine & Basilica. It's the perfect location for a relaxing break where you will experience uniquely friendly, comfortable and stylish hotel, welcoming staff and excellent cuisine. The Four Seasons Restaurant is open serving lunch and evening dining. The hotel has 6 wheelchair accessible rooms and is noted for its excellent facilities for those with mobility needs.