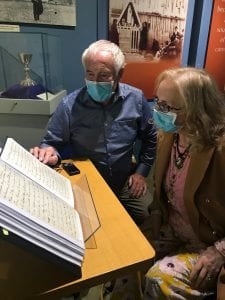 Willie and Catherine Kavanagh, 3rd generation relations of Archdeacon Cavanagh called to visit Knock Museum recently and were fascinated with Archdeacon Cavanagh's Diary of Cures. In the 1990s, Knock Museum discovered a good section of the original diary in the archive of the Sisters of St. Joseph of Peace in Washington DC. The Sisters donated the collection to Knock Shrine in 1998 along with some of the original Witness statements and over 130 original handwritten letters re. cures.
It is the largest collection of original material relating to Knock in the years immediately after the Apparition.
Archdeacon Cavanagh began his diary on 31 October 1879 with the cure of Delia Gordan from the square in Claremorris. Less than a year after the Apparition, he had recorded over 600 cures in it.