[space height="50″]
The Basilica of St Patrick's Old Cathedral, NY
Saturday 13 May 2017 
[two_third]
[/two_third]
It was the moment that many had been anticipating for months and on Saturday afternoon the dream became a reality when the remains of John Curry, the youngest witness to the Apparition at Knock, were reinterred at the Basilica of St Patrick's Old Cathedral in New York.
The Requiem Mass was celebrated by His Eminence Cardinal Dolan who gave a profound and moving tribute to John Curry, speaking about how he was remembered as a quiet, pious and humble man who only talked about his experience in Knock when asked.
[blockquote animation="" author="" ]. John Curry who would come here to New York as a young man, an immigrant, who only distinguished himself by his simplicity, humility, kindness and his piety, spending his final seven years with our beloved Little Sisters of the Poor in the Sacred Heart Home on 70th Street where he repeated his simple testimony when asked officially in 1937 and where he quietly dies in 1943, then to be buried in donated, unmarked grave until this day when his proud and grateful, spiritual and natural heirs gather to give him the prominence and esteem he deserves.[/blockquote]
Read the entire Homily of His Eminence Cardinal Dolan
A number of John Curry's relatives were in attendance, including his namesake and grand-nephew who was the author of a detailed book on his life. Also in attendance was the pilgrimage group from Knock Parish, led by Fr Richard Gibbons who for months has been busy making preparations for the visit which is the first ever pilgrimage to fly direct from Ireland West Airport to New York.
Also in attendance were members of An Garda Síochána, members of the Knights of Columbanus, Peter Hynes, County Manager, Cathaoirleach of Mayo County Council, Cllr Al McDonnell; Mayo County Council CEO Peter Hynes, and Mike Hannon from County Mayo Foundation.
Singer Sibéal Ní Chasaide, together with Odhran O'Casaide performed a haunting rendition of Ave Maria during the Reflection.
Towards the end of the ceremony Fr Richard Gibbons took a few moments to give his heartfelt gratitude to Cardinal Dolan and to all the staff at the Old Cathedral.
It was during this time that he presented Monsignor Donald Sakano, Pastor of St. Patrick's Old Cathedral with an original piece of clay from the gable wall at Knock Shrine.
Fr Richard said "We are delighted and honoured to be here for this historic occasion and to lead the Parish of Knock on our first pilgrimage to this sacred place. I would like to express my warm and sincere gratitude to both Cardinal Dolan and Monsignor Donald Sakano for inviting us here and for making all of this possible. We are extremely grateful to everyone for providing us with such a warm welcome, for making the Mass so special and an experience that will be cherished for many years."
John Curry's remains were brought to their final resting place in the grounds of the old cathedral by members of the Ancient Order of Hibernians. A headstone was erected to give him full recognition as a native of Knock and a witness to the Apparition.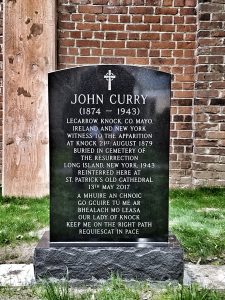 On Sunday 14th May, a special Mass of thanks was celebrated for the pilgrimage group by Cardinal Dolan in St. Patrick's (new) Cathedral. Organist and Cantor for Knock Shrine Úna Nolan performed a stunning rendition of 'Lady of Knock' which received a resounding applause from the congregation. This Mass can be view in full here.
[new_royalslider id="22″]