Since the earliest days, pilgrims have contemplated the Way of the Cross as part of their traditional pilgrimage to
Knock

.

Praying the Stations of the Cross is a traditional way of praying during Lent. We pray this familiar prayer to be with Jesus Christ, who walked this journey carrying the cross, the instrument of his death, out of love and commitment to us.

Tradition holds that after Christ's death and resurrection, the Blessed Mother retraced Jesus' last day every day. Over the centuries following Christ's Resurrection, this practice transformed into what we know as the Stations of the Cross today.

We are delighted to bring you our Stations of the Cross Audio & Booklet, a special prayer resource unique to Knock Shrine.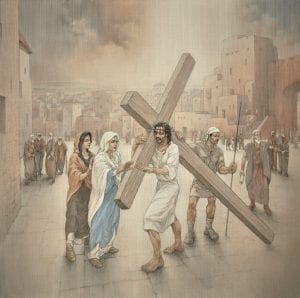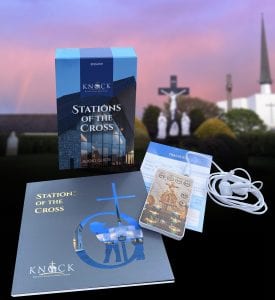 Using the stunning Stations of the Cross at Knock Basilica as a visual aid, this audio player and prayer book are the perfect companion pieces for contemplating the Way of The Cross and can be used as part of your pilgrimage to Knock Shrine, in your own local church or in the quiet space of your own home.
Narrated by Fr. Richard Gibbons, PP, Rector of Knock Shrine, this resource includes a meditation on each of the Stations of the Cross with musical accompaniment by Una Nolan, director of Music at Knock Shrine.
The small pocket-sized booklet has been carefully designed with beautiful imagery and a gold-foil finish on the cover.
This resource pack includes a battery operated audio player with headphones and Stations of the Cross prayer book.
Now available online. For phone orders, contact Knock Book Shop at (094) 93 75030.