New Guide For Pilgrims Now Available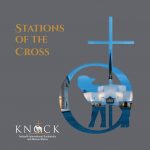 The Stations of the Cross have been part of the traditional pilgrimage at Knock Shrine since the earliest pilgrims travelled here over 140 years ago. This new publication features meditations on each Station by Fr. Richard Gibbons, PP, Rector at Knock Shrine, using the stunning Stations of the Cross at Knock Basilica as a visual aid. The prayer book is now available for pilgrims visiting the Shrine at Knock Bookshop and the Mass enrolment offices and online here.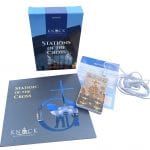 Also available, the Stations of the Cross audio prayer set, containing an audio player and prayer book, is the perfect companion piece for contemplating the Way of  The Cross as part of your pilgrimage to Knock Shrine, in your own local church or in the quiet space of your own home.
Narrated by Fr. Richard Gibbons, PP, Rector of Knock Shrine, with musical accompaniment by Una Nolan, director of music at Knock Shrine. Specially commissioned and exclusively available at Knock Shrine. The set is available online here.
Experience the Stations of the Cross at Knock Basilica