Sunday, January 24th 2021, is Sunday of The Word of God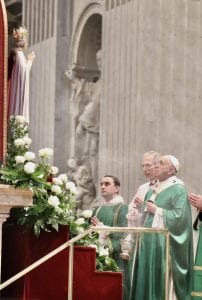 This Sunday is dedicated to the celebration, study and spreading of God's Word. Pope Francis instituted 'The Sunday of the Word of God' to be held every year on the third Sunday of Ordinary Time, with the Apostolic Letter in the form of a Motu proprio "Aperuit illis" issued on 30 September 2019.
The Pope intended it to be a day dedicated to the celebration, reflection and dissemination of the Word.
The inaugural Mass for the Sunday of The Word of God was held in St. Peter's Basilica, Rome on January 26th 2020 and Knock Shrine was honoured to participate in the Papal Mass on the occasion.
Speaking prior to the  Mass in Rome in January 2020, Fr. Richard Gibbons, PP, Rector at Knock Shrine expressed his delight at the invitation to Knock to participate in the ceremonies:
It points to the richness of the Apparition, which amongst other aspects, has the Word of God as a central part of its message.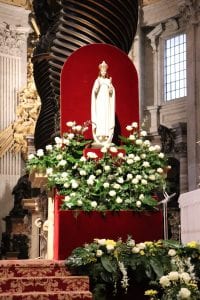 The Pilgrim Statue of Our Lady of Knock was present on the Papal altar throughout the Mass and parishioners from Knock parish participated in the liturgy. Schola Cantorum Basilicae, Knock Shrine were invited to perform the much-loved hymn, 'Lady of Knock',  at the inaugural Mass.
The statue, which was commissioned to mark the 140th anniversary of the Apparition at Knock, was blessed by His Holiness the Vatican in 2019 and was brought back to Rome for the special occasion.
As we look forward to the  celebration of the Sunday of the Word of God this year, we are reminded of these words from the homily of Pope Francis on the occasion:
Dear brothers and sisters, let us make room inside ourselves for the word of God! Each day, let us
read a verse or two of the Bible. Let us begin with the Gospel: let us keep it open on our table,
carry it in our pocket or bag, read it on our cell phones, and allow it to inspire us daily.

We will discover that God is close to us, that he dispels our darkness and, with great love, leads our lives
into deep waters.
Join us online for Mass from Knock Shrine on Sunday, January 24th at 12 noon. The Mass will be livestreamed on our website and on our Facebook page. The homily of Pope Francis at St. Peter's Basilica for the Sunday of the Word of God is available here: Pope Francis Homily – Sunday of The Word of God 2020.
The Apostolic Letter, "Aperuit illis", is available from Knock Bookshop here.