The Last Supper Mural, Blessed Sacrament Chapel, Knock Basilica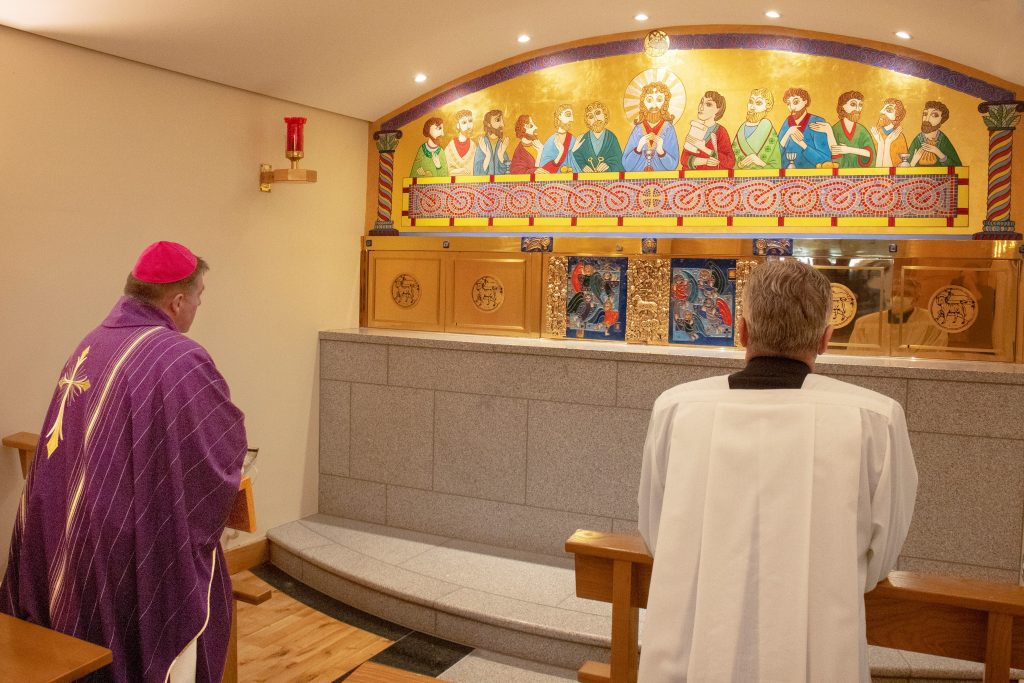 A stunning new mural representing The Last Supper has been unveiled at Knock Basilica.
The Blessed Sacrament Chapel is located behind the sanctuary in the Basilica, a small quiet space where pilgrims can take time for private prayer before the Blessed Sacrament.
The mural was designed specifically for the Blessed Sacrament Chapel to fit in the space above the tabernacle and to complement the existing Celtic design on the tabernacle doors, originally designed by Patrick McElroy. This exquisite artwork was restored by Church Art Metals, Dublin during refurbishment works in 2016.
The mural was designed over the course of several weeks by artist Naomi McBride in consultation with Fr Richard Gibbons, Parish Priest and Rector of Knock Shrine.
In recounting the brief for the mural, Naomi explains that the desire was to create a work of art based on the Celtic tradition, as this style is befitting of the existing artistic elements in the Chapel as well as the broader context of Ireland's rich ecclesiastic history.
Drawing inspiration from the Book of Kells and using more contemporary resources by Celtic design expert George Bain, initial sketches were developed incorporating Celtic knotwork and other decorative symbols. After the designs were approved, specialist painters and guilders Knox & Knox, a father-and-son business set to work in rendering the artwork in collaboration with illustrator and mural artist, Nessa O' Brolchain.
At the centre of The Last Supper is Christ holding the Eucharist Chalice with Saint Peter to his right and Saint John to his left. Above Christ is the Lamb, as Jesus foretold his own sacrifice as the Divine Lamb, using bread and wine to represent his body and his blood.
The background is decorated using gold leaf which creates a gilded, glistening effect in the soft light of the chapel.
The apostles are depicted as follows (left to right):
Bartholomew, Andrew, James the Greater, Thomas, Philip, Peter (with crossed keys) – from the Gospel of St Matthew (16:19) where Jesus says to Peter, "I will give you the keys of the kingdom of heaven, and whatever you bind on Earth shall be bound in heaven, and whatever you loose on Earth shall be loosed in heaven."
Jesus, John (with vellum and quill pen – author of the Fourth Gospel,  the Book of Revelation, and Epistles), Matthew, Thaddeus, Simon, James the Lesser, Judas Iscariot (clutching a bag containing 30 pieces of sliver – from the Gospel of St Matthew (26:14-16) :
"Then one of the twelve, who was called Judas Iscariot, went to the chief priests and said, "What will you give me if I betray him to you?" They paid him thirty pieces of silver. And from that moment he began to look for an opportunity to betray him."
Most Rev. Francis Duffy, Archbishop of Tuam blessed the mural during the 12 noon Mass on Sunday 6th March, 2022. Find out more.