Time Out for the Journey In!
We invite you to join us online for a Six-Day Ignatian Retreat led by Bishop Alan McGuckian SJ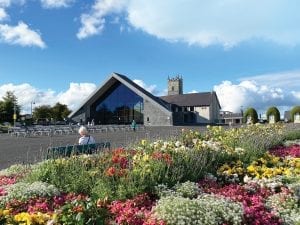 Jesuit Week at Knock Shrine is always a very popular annual programme with pilgrims and visitors. This year, the retreat will take place online only, due to current restrictions.
The programme will begin on Sunday July 25 at 8:30pm and will conclude on Sunday August 1 at 10:30am.
There will be three 20-minute sessions each day at the times listed.  You are encouraged  to join us online for Mass at 12 noon each day.
The  6 day programme will be facilitated by Bishop Alan McGuckian SJ, Raphoe Diocese, Paula McKeown (Down & Connor) and Patricia Mc Carthy, Prayer Guides Co-ordinator at Knock Shrine.
Daily Schedule
10:30am – Retreat Talk by Bishop Alan Mc Guckian
12:00pm – Mass from Knock Shrine
4:00pm – Guided Meditation: with Patricia McCarthy
8:30pm – The Examen (Review of the Day): with Paula McKeown
No booking / registration necessary. This event is free of charge. Donations welcome.
These events will take place online on www.knockshrine.ie/watch-live and on our Facebook page.