We welcome you to Knock Shrine this August
Additional Daily Masses throughout August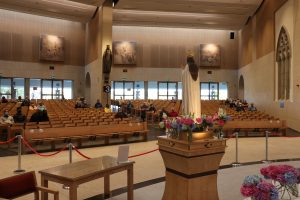 We are delighted to offer 5 daily Masses at Knock Shrine throughout the month of August. All Masses take place at Knock Basilica and as capacity is restricted to 200 people at each Mass, we advise you to arrive early. There is a queuing system in place in advance of each Mass on  a first come, first served basis. Unfortunately, you will not be able to access the Basilica once full capacity has been reached.
Please see our daily Mass times here
Space For Private Prayer at Knock Shrine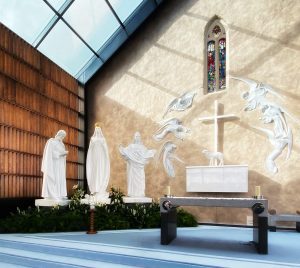 The Apparition Chapel and Knock Parish Church are open daily for private prayer from 9am to 9pm daily.
Please note that capacity is limited in each church and there may be a queuing system in place at busy times.
Safely Visiting Knock Shrine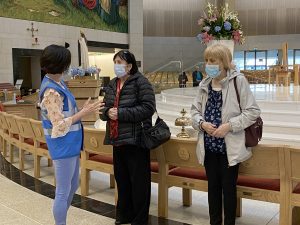 Please be mindful of the health and safety of your fellow pilgrims when you visit Knock Shrine. Please wear a face covering when entering all churches and buildings within the Shrine grounds. Hand sanitiser is provided at the entrance to all buildings.
As capacity in all buildings at the Shrine is currently restricted, there may be queuing systems in place at busy times. Our stewards and ushers are on hand to assist and advise you at all times.
Please see our guidelines for safely visiting Knock Shrine here
Opening Hours At Knock Shrine
Chapel of Reconciliation
Confessions available from 11am to 3pm daily
Mass Enrolment Office
9am to 6pm until Friday, August 6th 2021
9am to 6.45pm from Saturday, August 7th 2021
Knock Book Shop
Open daily from 9am to 6pm
Knock Museum
Open daily from 1oam to 6pm
Cafe le Cheile at Knock Museum
Open daily from 10am to 6pm
Knock Counselling Centre
Open from 9.30am to 5.30pm
Monday to Friday
Drop In Listening Service: 11am to 4pm
Thursdays and Sundays