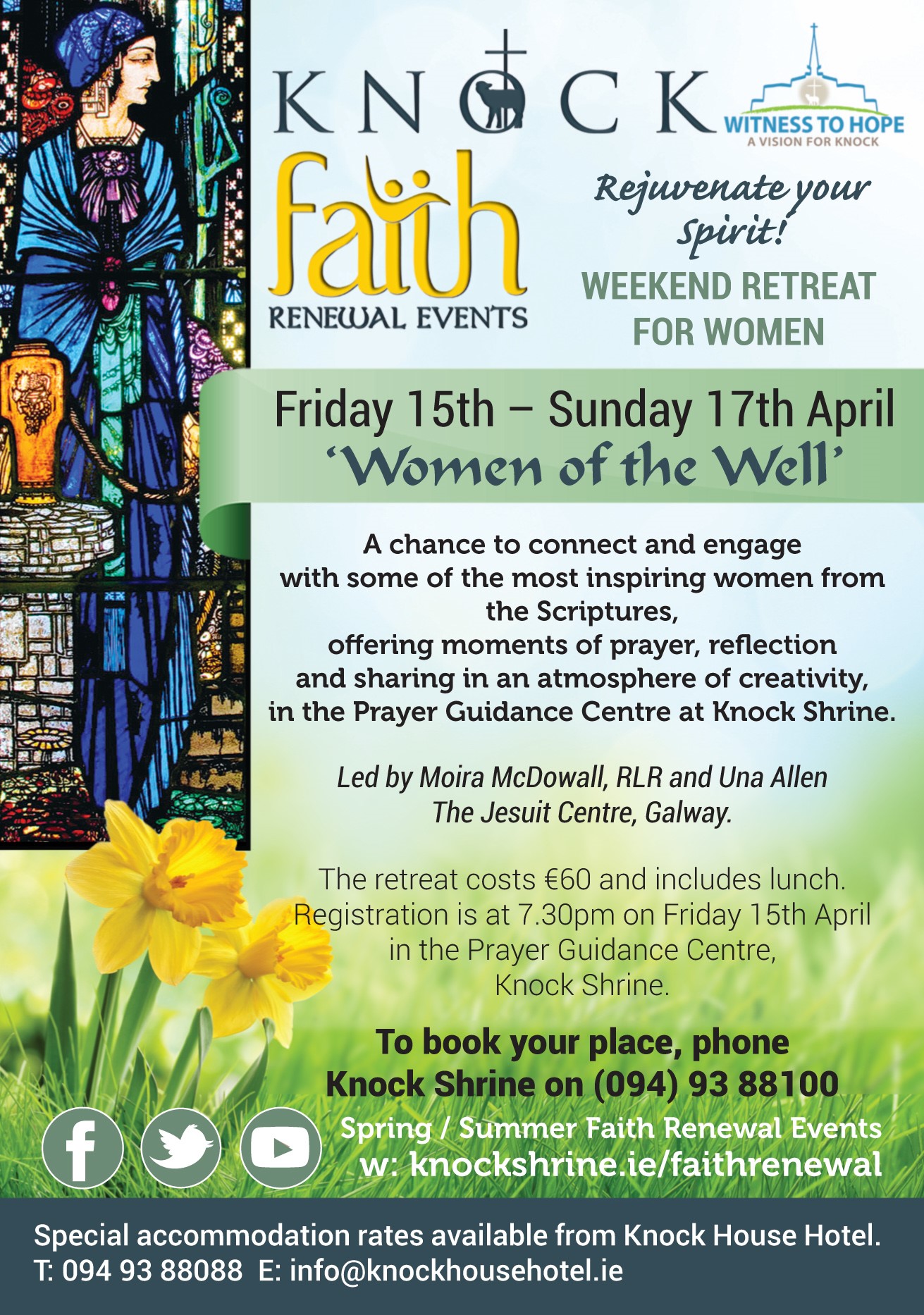 Download Poster for the Women of the Well
A popular faith programme on women's spirituality is coming to Knock Shrine in the form of a weekend retreat, from April 15 to 17.
'Women of the Well' takes place in the Prayer Guidance Centre, Knock Shrine, from 7.30pm on Friday, April 15, until 2pm on Sunday, April 17.
The retreat is based on the successful series of evenings for women, organised by the Jesuit Centre for Spirituality & Culture in Galway.
The retreat will be facilitated by Moira McDowall, RLR, and Una Allen.
The Knock weekend retreat will focus on the story of the Woman of the Well in St John's Gospel and will offer different moments of prayer, reflection and sharing in an atmosphere of creativity and mutual encouragement.
Like the 'Woman at the Well' in John's Gospel, women today are thirsting to understand how Scripture speaks to them through women, and as women, and gives hope and meaning to their daily lives.
All women are welcome to come and join this retreat in Knock. There is no need to have taken part in any of the previous sessions of 'Women of the Well' in Galway.
This is a weekend retreat and participants are expected to attend from the Friday evening until Sunday lunchtime.
Participants are also responsible for finding their own accommodation in Knock or the surrounding area.
For those who wish to stay in Knock, Knock House Hotel is offering a special accommodation rate for participants on the retreat.
For further information, please telephone Knock Shrine on (094) 9388100 or the Jesuit Centre, Galway, on (086) 877 6537.
The cost of this retreat is €60, which includes lunch on Saturday and Sunday.
Related articles