Young St Vincent de Paul Conference
The Young SVP are asking young people to use their voices and power to tackle social justice issues.
A conference is being hosted by the Society of St Vincent de Paul West Region in Knock Shrine September 14 from 10am.     
The conference will  inspire and motivate young people to take action and make a difference in their communities. The day will include presentations on topics of social justice followed by round table discussions. Students will have open conversation with speakers, facilitators and people dealing with social justice issues. The speakers on the day include Fr. Peter Mc Verry SJ, Joanne O' Riordan, John Lonergan and Dr. Cara Augestenborg.
Fr. Peter is a social justice activist; he is a strong advocate for those who have no voice in society. Speaking at the 50th Eucharistic Congress held in Dublin in June 2013 Fr. Peter said: "In a community that loves one another, there should be no-one poor, (unless all are poor); there should be no-one homeless, no-one lonely, no-one sick or alone without visitors, no-one in prison who has been abandoned and written off, there should be no-one rejected or marginalized." This is the challenge he will be giving to young people on the day and asking them to get involved in making the above a reality.
 Joanne O'Riordan was born with a rare condition known as Total Amelia. This means she has no limbs. She is only one of seven people in the world living with this disability but she never looks at herself as being different, Joanne looks at her life and says "I'm unique". The teenager has spoken at numerous events nationally and internationally including an address to the United Nations on the importance of technology in her life, and is working with Trinity College Dublin to create a robot to help her with everyday tasks.  She will address the young people of the West and challenge them to be the voice for those who don't have one and to inspire them to do the impossible.
Ten senior cycle students from schools around the West Region (Mayo, Roscommon and Galway) are invited to attend this day, they will then go back to their school  as social justice advocates. The Young SVP youth development programme will run in the schools and help students get involved in youth led action in their school and communities. This will be supported by our newly appointed Youth Development Officers, Helen Ralph (Mayo/Roscommon) and Paddy Daly (Galway).
Michael Mc Cann, President, West Region SVP has stated 'we are excited about this conference, it is an opportunity for young people in the region to hear more about the work of the Society and to get involved in whatever way they can.'
FULL PROGRAMME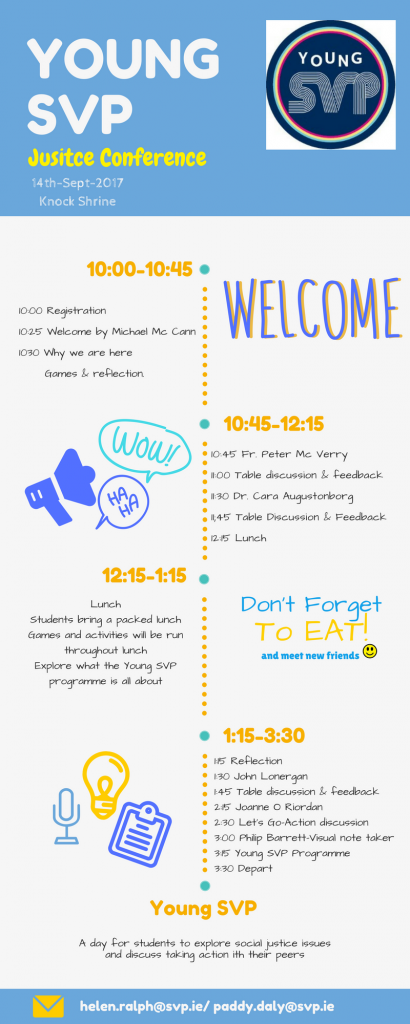 ---
Keep in touch
Follow us on: