'Time Out For The Journey In'
As you prepare to join us for Jesuit Week online this year, you might like to find out more about Ignatian Spirituality. Ignatian spirituality challenges us to encounter God in all things, witnessing to the joy of the Gospel. Knock Bookshop has a selection of useful resources that will assist you as you learn more about the Ignatian way.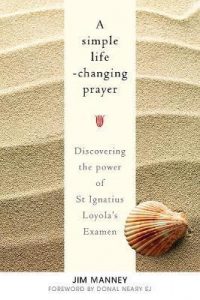 For most people most of the time, prayer is hard. It is especially difficult-not to mention unsatisfying-when people experience it as formal, dry, and repetitious. But what might happen if you discovered a simple prayer that changed all that? What if you discovered a prayer that changed you?
In A Simple, Life-Changing Prayer, Jim Manney introduces Christians to a 500-year-old form of prayer that dramatically altered his perception of prayer and the way he prayed. The prayer is the examen, which St. Ignatius Loyola developed for the purpose of nurturing a reflective habit of mind that is constantly attuned to God's presence.
Among the many strands in Christian spirituality, one of the most esteemed bears the name of St Ignatius Loyola. In recent years Ignatian spirituality has experienced a resurgence and is attracting interest from across the range of Christian denominations and from every walk of life.
There has been a widespread desire to learn more about Ignatius and his legacy, and many people have made the Spiritual Exercises in one of its many forms and have grown through the experience.
God Ever Greater is written to appeal, not only to those who are looking for an introduction to Ignatian spirituality, but also to those who have some acquaintance with the Ignatian tradition. It will draw its readers into an exploration of a rich Christian heritage that continues to live and breathe today.
We all need to make a retreat. To find a few moments in our busy lives to try to stop worrying and fretting about so many different things, and to sit in silence at God's feet and just to listen. A retreat is simply an attempt to see beyond the 101 cares and occupations we normally have and to ask ourselves, 'Where it is all leading? What's the purpose of it all?'
Time to Change takes the basic format and principles of The Spiritual Exercises of St Ignatius and allows us to make a retreat without interrupting too much your ordinary daily life and all the things you have to do.
Browse the selection of  Ignatian Spirituality resources available at Knock Bookshop here.
Jesuit Week Online: July 25th to August 1st 2021
The programme for Jesuit Week Online will begin on Sunday July 25 at 8:30pm and will conclude on Sunday August 1 at 10:30am.
There will be three 20-minute sessions each day at the times listed.  You are encouraged  to join us online for Mass at 12 noon each day.
The  6 day programme will be facilitated by Bishop Alan McGuckian SJ, Raphoe Diocese, Paula McKeown (Down & Connor) and Patricia Mc Carthy, Prayer Guides Co-ordinator at Knock Shrine.
Find out more here.