New Year Greetings from Knock Shrine!
Recent News..
Knock Shrine features on RTÉ 1 'Baz & Nancy's Christmas Special', Wednesday 20th December 2017
Before embarking on their journey to Rome in the hope of meeting Pope Francis, Baz and Nancy were welcomed to Knock Shrine by Fr Richard Gibbons. While at Knock, they hear about the great plans for 2018 and take a look at the magnificent Apparition Mosaic at Knock Basilica.
View the full show here
---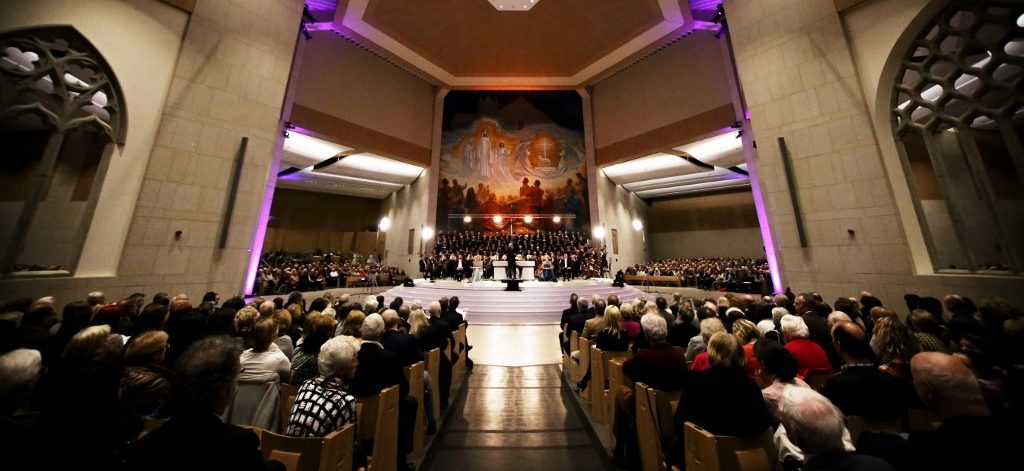 Handel's Messiah Concert at Knock is broadcast on Lyric FM on Christmas Day
The special Christmas Day programme featured the recent performance of Handel's Messiah recorded in the Basilica in November.
Listen back here
---
Refurbishment works on-going
Work is continuing on Knock Apparition Chapel and Parish Church which will remain closed to the public until April.
All services, including daily Masses and Confessions will continue as normal. If you are travelling with a group and would like to avail of a private Mass, we are happy to accommodate your group in the Blessed Sacrament Chapel. Find out more on our Visit page or contact Guided Tours who will help to organise your day at Knock Shrine: guidedtours@knockshrine.ie
---
 

2018 Knock Shrine Calendar
Take some inspiration for January with our beautiful 2018 Calendar. Each month contains a prayerful quote, stunning images as well feast days and pilgrimage dates to help you prepare for the year ahead. You can order your calendar here.
The month of January shows an image of the stunning Harry Clarke stained glass window in Knock Parish Church. This window shows a scene from the 'Woman from Samaria at the Well' on the left and St Joseph on the right.
---

Masses are available to watch live each day on the Watch 

page.
Daily Masses are available to watch live at the following times:
12 noon & 3pm (Sundays)
3pm (Weekdays)
You can also watch previous ceremonies on the Knock Shrine YouTube Channel here.
---
The next pilgrimage season will take place from Sunday 29th April – Sunday 14th October 2018 
Every year, Knock Shrine welcomes pilgrims from all over the world. Pilgrimages take place from the last Sunday in April to the 2nd Sunday in October. If you would like to organise a pilgrimage to Knock, please get in touch.
Download a pdf version Pilgrimage List 2018