Visiting Knock Shrine this Summer
If you're looking for a beautiful, peaceful place to visit, there is so much to see and do at Knock Shrine. The gates are always open and everyone is welcome, whether it's to take quiet time for yourself, to pray for someone, enjoy the beautiful, serene grounds, visit the award-winning Museum, savour a delicious coffee at Café Le Chéile, view the many beautiful sacred artworks or dip into a new book at the Bookshop.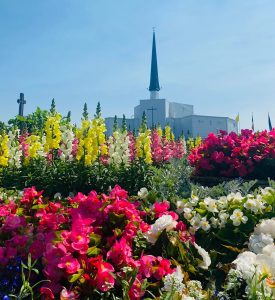 The grounds and gardens at Knock Shrine stretch over 100 acres. Carefully tended, the grounds offer a peaceful retreat for visitors, with plenty of seating areas and quiet corners to relax and reflect. Whether you're visiting on your own or with friends and family, the gardens are a great place to spend some time in contemplation and prayer.
Daily Mass & Ceremonies
From May until mid-October, a full programme of ceremonies is available including the Anointing of the Sick, Rosary Processions, Sacrament of Reconciliation, Stations of the Cross and daily Mass. We look forward to welcoming organised Diocesan and pilgrimage groups from across the country each weekend.
No visit to Knock Shrine would be complete without taking in the many sacred artworks that are dotted around the grounds and in the churches. From stunning stained-glass windows to beautiful sculptures and paintings, the artworks are truly inspiring.
So why not plan a visit to Knock Shrine today and experience the peace and beauty of this special place for yourself? Find out more about planning your visit here.
Upcoming Events and Special Celebrations
Monthly Mini-Vigil on the first Friday of the month from 8pm until Midnight
Mass for First Holy Communion Children and their Families: Sunday 4th June, Knock Basilica, 12 noon
Exam Mass: Monday June 5th, Knock Basilica, 7.30pm
Blessing for Expectant Mothers: Saturday May 20th, Knock Basilica, 11am
National Novena to Our Lady of Knock:  14th – 22nd August
Family Day: Sunday 20th August, 11am-3pm
Games, activities and fun for all the family on the beautiful grounds of Knock Shrine. Admission free. All are welcome.