TICKETS TO ATTEND POPE FRANCIS' VISIT TO KNOCK SHRINE ARE NOW BOOKED OUT
This event is taking place at Knock Shrine on Sunday 26 August. Every adult and every child in attendance will require a ticket to access the Shrine on 26th August 2018. Under 18's must be accompanied by an adult. All tickets will be for standing sections.
You will not receive your ticket for entry immediately upon booking – tickets will be sent to you via post to the delivery address you provided. Tickets will be posted closer to the event date but prior to 10th August,  along with details of how to get to your location in Knock.
The World Meeting of Families 2018 is open to all. It is expected that many families, parish and diocesan groups will attend this historic event and will offer support to members of their group with accessibility requirements. There is an application process in place for those with accessibility requirements.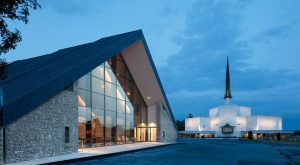 Knock Itinerary
Pope Francis will arrive at Knock Shrine on Sunday 26 August at 9.45am. He will visit the Apparition Chapel, the sacred site of the Apparition of 1879, and say the Angelus in the square in front of the Apparition Chapel. He will depart the Shrine at 10.45 and travel to Ireland west Airport for immediate transfer to Dublin.
See more on the Papal visit here or see FAQs section below for more information
Media Section 
If you are a member of the press and would like to attend the Knock visit, please find out more here
---
Practical Information
Plan your journey and mode of transport for Sunday 26 August
To assist all those interested in attending these events, new information has been published by various agencies of the State regarding transport options available for both Knock Shrine and Phoenix Park. Transportation is a key aspect to these events, especially for the Phoenix Park Mass as it will inform attendees their assigned route to follow. We would ask all those planning to book a ticket to please read this helpful information: www.gov.ie/popeinireland
FAQ – Tickets for Knock Shrine 
1. Will there be a transport plan in place for Knock? 
Yes, there will be a full transport plan in place for both venues. You will not be able to drive up to or park near the venue but there will be park and ride or park and walk facilities available. 
For more information on the transport options available for both venues, please see 
www.gov.ie/popeinireland
2. What special accessibility arrangements are in place for those who need supported access?
Given the unique scale of this event, the WMOF2018 is currently engaged with disability organisations in relation to the provision of supported access for those who would like to attend the event at Knock Shrine or the Closing Mass in the Phoenix Park. Subject to their advice and available space and resources, a limited number of supported access tickets will be available. If an applicant does not qualify for supported access, they will be entitled to a standard individual ticket.
The options that will be available are as follows:
A space in a reserved section for one person and their carer. [Spaces here will be extremely limited] 

A space in one of the main corrals as part of a family or group.
3. Will my ticket be transferrable? 
Tickets for Knock Shrine will be printed and will have the name of the person who made the booking on the ticket. These tickets are not transferrable.
4. Will tickets be printed or sent by email? 
Tickets for Knock Shrine will be printed and posted to those who have booked them. 
5. When will tickets be received?
At the time of booking you will receive an email to confirm that your booking has been successful and you will receive your tickets by 31
st
 July.
Local Accommodation in Knock: Please see our list of Local Accommodation 
See also our dedicated news section for the World Meeting of Families 2018