Holy Week Ceremonies online at Knock Shrine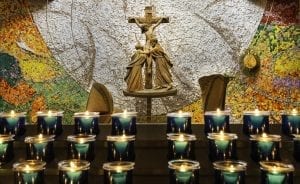 Palm Sunday
Sunday, April 5th 2020
12 Noon & 7.30pm (with Rosary at 7pm)
Monday – Wednesday
April 6th – 8th 2020
Mass at 12 Noon & 7.30pm
(with Rosary at 7pm)
Holy Thursday
April 9th 2020
10.00am:Morning Prayer
7.30pm: Mass of the Lord's Supper
Good Friday
April 10th 2020
10.00am :Morning Prayer
12.00pm:Stations of the Cross
3.00pm:The Passion of Our Lord
7.30pm:Stations of the Cross
Holy Saturday
April 11th 2020
10.00am:Morning Prayer
10.30am:Blessing of Bread for the Polish community followed by Penitential Service
9.00pm:Easter Vigil
Easter Sunday
April 12th 2020
Easter Sunday Mass
12.00 Noon & 7.30pm
We invite you to join us online at www.knockshrine.ie as we pray for the end to the Coronavirus and celebrate the most important time of the Christian calendar together. To make it feel special in your home,  we suggest the following:
Set aside a ceremony (or all of them) for all your household to come together.
For Palm Sunday have a Palm ready or be creative and design one at home, have the children help!
For Good Friday have a crucifix ready for the Passion at 3pm so that you can venerate the cross with me online at the same time.
For the Easter Vigil at 9pm on Holy Saturday, have a candle ready to light (safety taken into consideration!) at the same time I light the Easter Candle and leave it lighting just for the Mass.
Please keep safe and adhere to all that is being asked of you at this time for your own sake and the sake of the ones we love. In Knock we are praying with you and for you all.